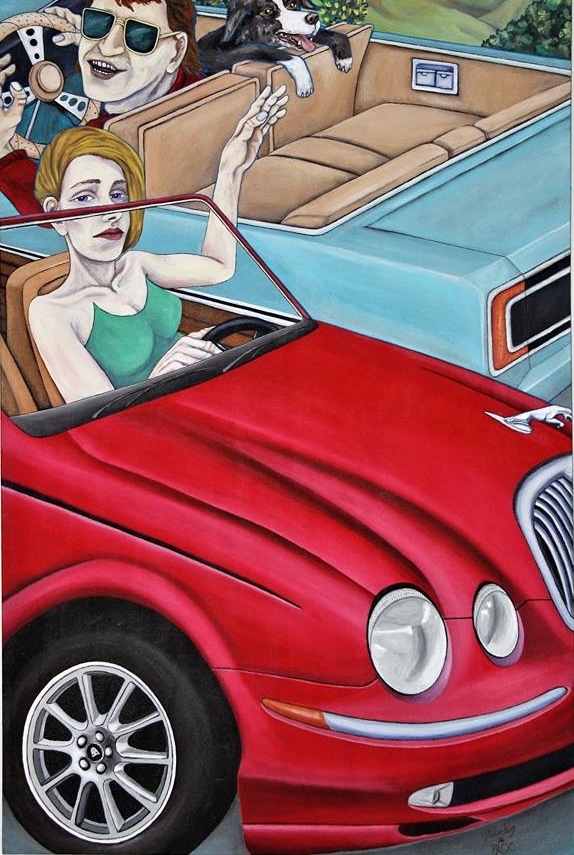 See more of Gabriel Heimler and Anna Proc's art on their page here
Gabriel and Anna can put you in your favourite car, like in their On the Road series from 2018, paint a couple or a family in a special place, or even paint the ideas behind your business.
Gabriel Heimler and Anna Proc
Gabriel was born in Paris to Hungarian/German parents where he studied at the influential art school Ecole des Beaux-Arts. He moved to Berlin after his studies to pursue a career as an artist. He quickly gained a name for himself after being asked to contribute to the Berlin Wall mural project, where he painted the 'Wall Jumper' in 1989. This became an unofficial symbol for Berlin and the Berlin Wall murals are now incorporated as an historical park. His mural was the catalyst for a successful 20 year career with a major Berlin Gallery involving numerous solo and group exhibitions, having work sold at Sothebys auction in New York, being an instigator of post war revival of Jewish culture in Berlin, and creating an international European art project 'Art Express'.
In 2010 Gabriel moved with his partner Anna Proc to Wellington, where together they have begun a collaboration that has resulted in the 'Mover' mural on the QT Art Hotel, annual major solo exhibitions and being selected as part of the New Zealand entry into the Beijing biennale in 2019. Anna Proc's artistic background was in creative crafts and art administration, but since joining with Gabriel she now paints with him on the same works and contributes to the creative ideas.