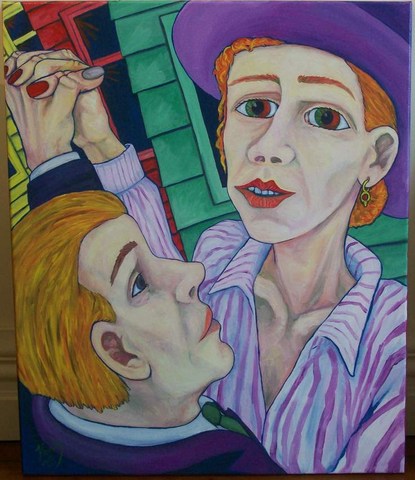 Acrylic size 500mm x 600mm
$1600.00 Please contact the gallery for purchase inquiries
No 7 in a series 'Dancing in Aotearoa' by Berlin based artist Gabriel Heimler. The series has been painted in New Zealand during Gabriel's stay in 2010.
Gabriel Heimler is an established European artist who sells from galleries in Berlin, Paris, Brussels and Frankfurt and has also been sold at Sotheby's in New York. He is also famous for painting the 'Wall Jumper' mural on the Berlin wall directly after its fall in 1989. The 'Wall Jumper' developed into an unofficial symbol for Berlin and in 2009 Gabriel was asked by the city to restore it. Now the mural and wall segment have become part of an historical monument to the Berlin Wall.
Gabriel's work is a mixture of German expressionism, cubist perspectives and pop art. His style is flamboyant and colourful and always has a concrete narrative or conceptual theme from literary, biblical and historical sources.
His 'Dancing in Aotearoa' series represents the mixing of cultures in New Zealand, which Gabriel says he finds refreshing and more pronounced than he has seen before.
Of the 'Dancing in Aotearoa' series, One large installation piece, the first one painted, is on display at the White House Restaurant in Wellington, two have been sold into a private collection and one to a Wellington buyer.