Autumn Flowers

- Vincent Duncan
25 June - 14 July 2019

Vincent Duncan's new exhibition of themed flower art  is all about creating a feeling of life,happiness and fun.  Please see the exhibition catalogue here!
Wellington artist Vincent Duncan has been painting his exuberant heavily textured oils full time since 1993. He has become without doubt one of Wellington's most successful artists. His work is in many  homes, in Wellington hospital brightening up the wards and bought by numerous national and international visitors to the capital. His secret ingredients;  joy and fun! Vincent says "My passion for art began when I was very young, it has always been a priority for me to express myself though my painting. I am a self-taught artist. By creating my own vision of what I see and experience in my city, I try to make my viewer feel good and happy. I love texture and colour. I like people to touch my paintings and feel the textured oil. I describe myself as 'cheeky and intuitive', painting what I see and feel. An artist has to see the world differently These things make my paintings humorous, symbolic and uniquely my own.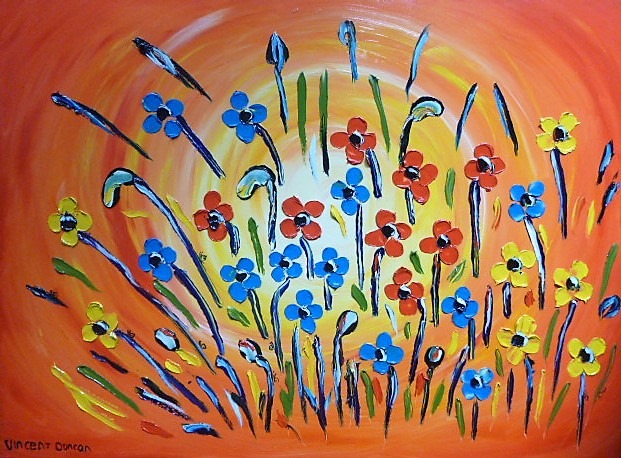 Gauguin in Aotearoa - Heimler and Proc
11 May - 9 June 2019
Gabriel Heimler and Anna Proc's new interpretation of Gauguin based on imaginations of his little known visit to Auckland.

Heimler & Proc, Intorduction to the 'Gauguin in Aotearoa' series
On August 9th, 1895, Paul Gauguin arrived in Auckland while on his second journey to Tahiti. During his ten days stopover there, he visited the Auckland Museum. Impressed by the Maori culture section, he made drawings of some of the artifacts he saw. Later, he would use these drawings in his paintings. Gauguin's work attempts to transcend the boundaries of place and time, to escape from the present into a cultural past in order to make an art for the future.
In our 'Gauguin in Aotearoa' series, we follow Gauguin's direction of searching for authenticity but we diverge from it too. We replace his idyllic timeless Tahitian imagery with our personal artistic approach to New Zealand unique cultural values.
Our artistic concept originates from Picasso's confrontation with the painting Las Meninas by Diego Velazquez in his series of the same title.
These inspirations brought us to:
- using New Zealand landscape along with Maori traditional symbols and rythms to bring the location and cultural background to life,
- bringing to the canvas a blend of New Zealand diversity to create dynamism in our series, an aspect that Gauguin chose to omit in his work,
- animating the figures in accordance with our style,
- re-composing and reducing some of Gauguin's paintings to unearth a new meaning - in keeping with a our personal aesthetic,
- choosing colour palettes that pay homage to Gauguin.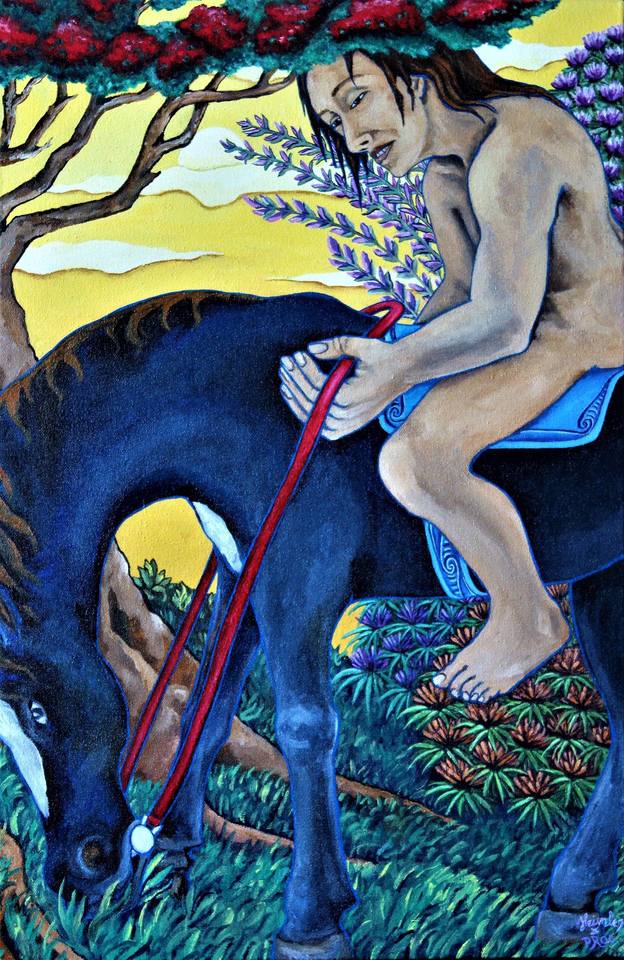 Nature's Silent Song - Diana Treeborn
13- 31 March 2019
Diana Treeborn's art  is inspired by nature and especially the sea.   Working in poured paint techniques,  Diana has created mystical yet recognisable  underwater worlds.  Her style of abstract art is all the more impressive as she manages chaotic control  to express form and her ideas.

Natures Silent Song is the story of magical underwater worlds, not seen by many of us, and with reference to the modern phenomenon of vast quantities of plastic in the oceans. As an artist Diana doesn't only work in poured paint but for this series the loose mixing of colours and free flowing quality of the technique matches her passion as a diver and observer and is a perfect fit for her to show  us the surreal beauty of her underwater world.
Diana is an emerging artist from Germany who has lived in Wellington since 2015. Her painting revolves around nature themes often with a surreal element. This exhibition is her first Gallery solo show, although she has exhibited in group shows with the Academy of Fine Arts in Wellington and held her own pop up exhibition in 2018.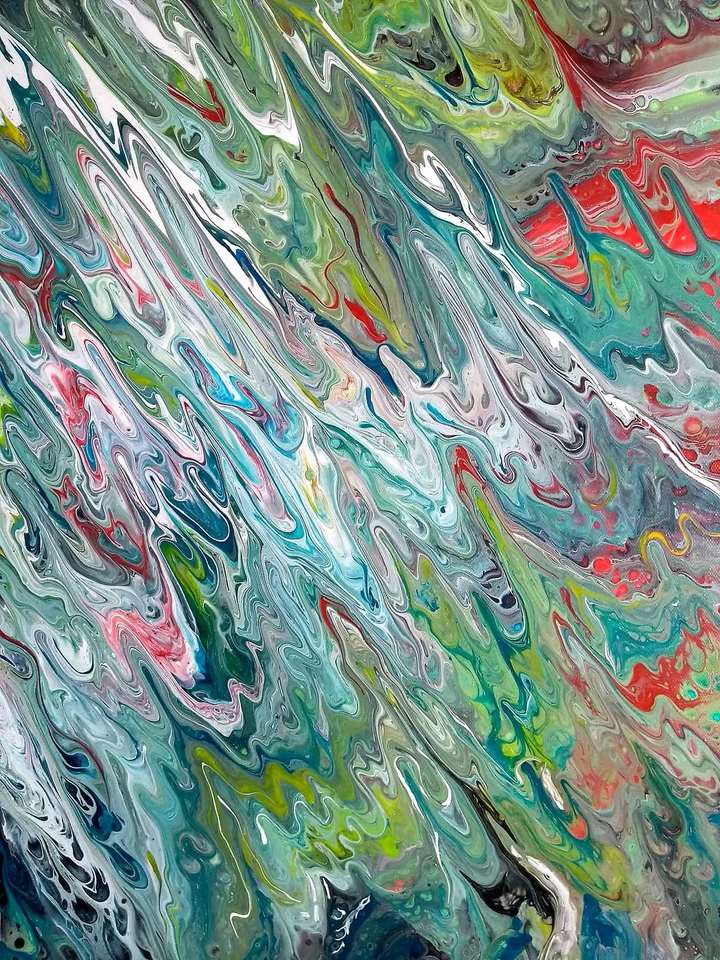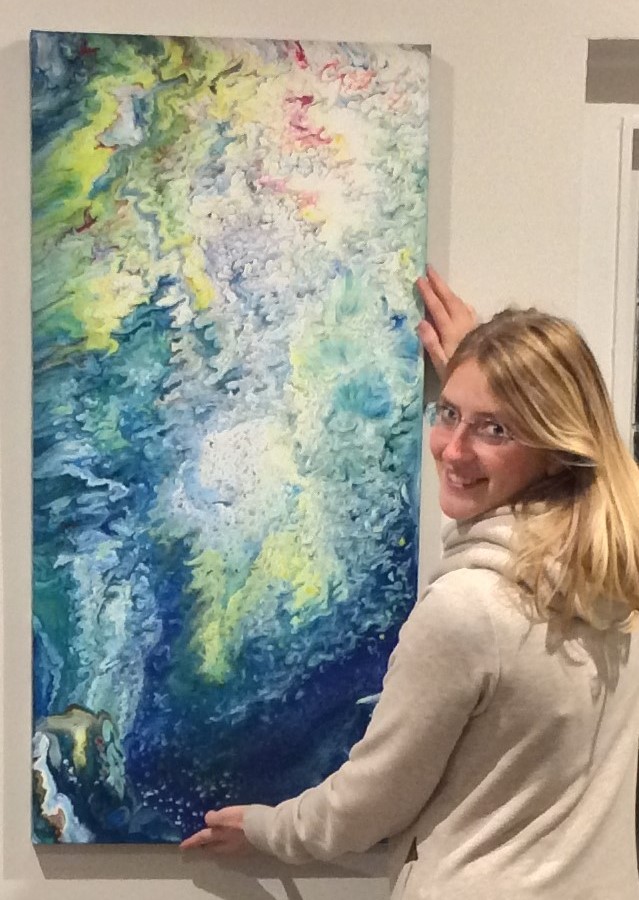 'Melting Ice' by Diana Treeborn
Retrospective Aotearoa - Gabriel Heimler and Anna Proc
13-28 February 2019
 Gabriel Heimler and Anna Proc's Retrospective Aotearoa brings together paintings representing  their exhibitions from 2010 when they relocated to Wellington from Europe to their most recent 2018 exhibition 'On the Road'  Including examples from the 2010 and 1011 series Dancing in Aotearoa and Naked,  Dark Light 2014, Shadow in the Bush 2014, Inside View 2015, Homage to Diego Rivera 2016, All in the Same Waka 2017 and On the Road 2018.  In 2019 they painted a new work 'Yesterday' to represent the sold out 2013 exhibition Foxtrot Around the Piano.  From 2012, The Beehive in Cuba St exhibition is also sold out and not included.

Gabriel Heimler's background as a well known artist in Berlin for 20 years, a vastly creative period that included his 'Wall Jumper' mural on the Berlin Wall, combined with inspiration from his partner Anna in their collaborative New Zealand paintings, plus the influences of new people and land in Aotearoa, has produced over eight years a new major exhibition annually with each one being imaginative in ideas and all completely different as though the artists reinvent themselves completely  for every new series. 
This retrospective is a chance to see paintings from the artists' earlier exhibitions that are no longer displayed, and are in most cases either the last or one of only two remaining from their respective exhibition series.
Opening 6pm Wednesday 13 February
Please see the Exhibition Catalogue PDF Here
Or see the exhibition paintings on the Current Exhibition page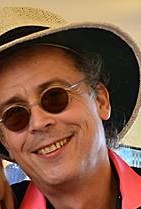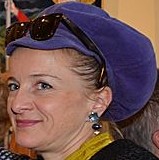 2018 Christmas Exhibition
14 December - 24 December 2018 - 12 - 31 January 2019

The annual group exhibition is also a chance to show work from artists new to the Gallery. This year we introduce the well known Kapiti artist Peter Augustin. 
Other new artists include Mark Hill, who is creating paintings using historical pigments that date back to the 1940s and earlier, Carol Wilson and Melissa McDougall.
Gallery artists contributing to the show include Joy de Geus with a new large Wellington watercolour, Sam Earp with two new Wellington coast scenes, Vincent Duncan who has completed a set of smaller 60cm x 90cm and 1200mm x 300mm sized new fun quirky artworks, Dianne Taylor with a moody stormy coastal watercolour
Images for the exhibiiton paintings will be posted on the Current Exhibition page from 12 December
TRANSFORMATION - Escha van den Bogerd
9- 24 November 2018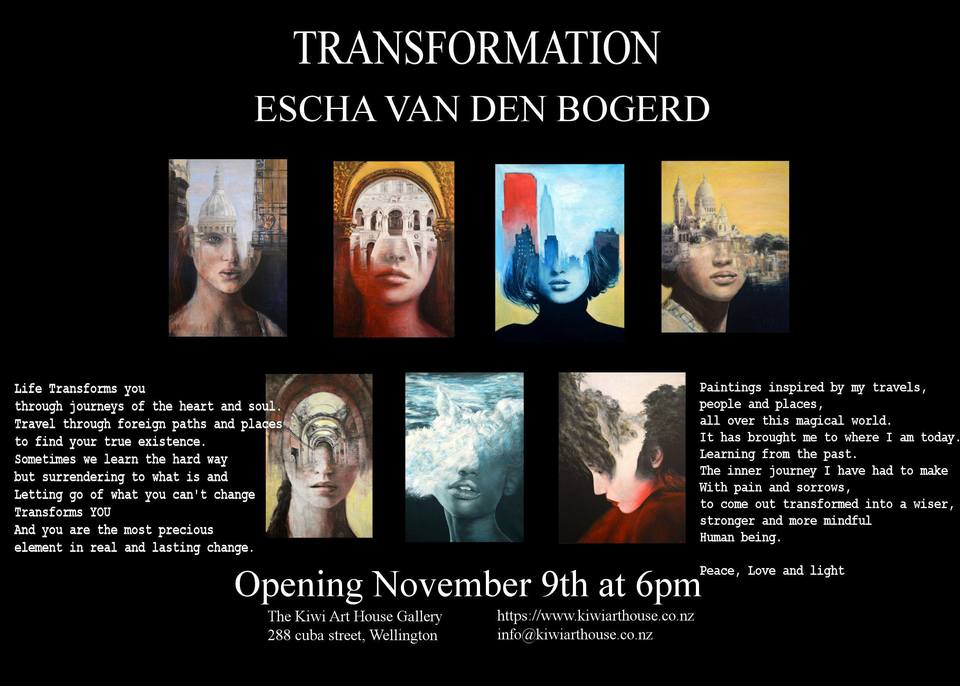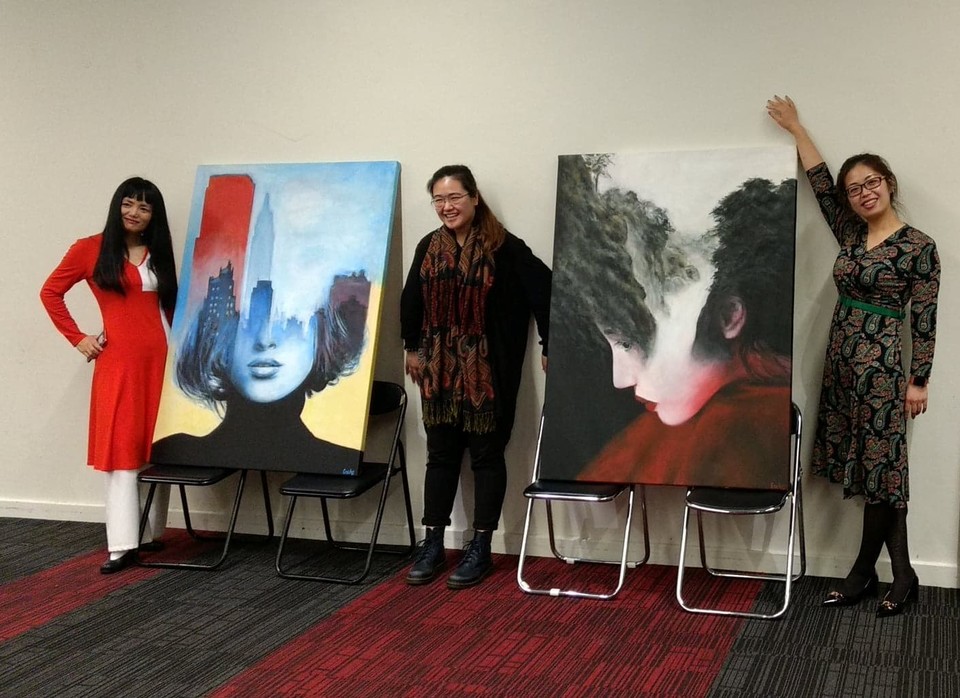 First public showing of these two exhibition paintings - at the Wellington Chinese Women's Forum seminar at Victoria Unversity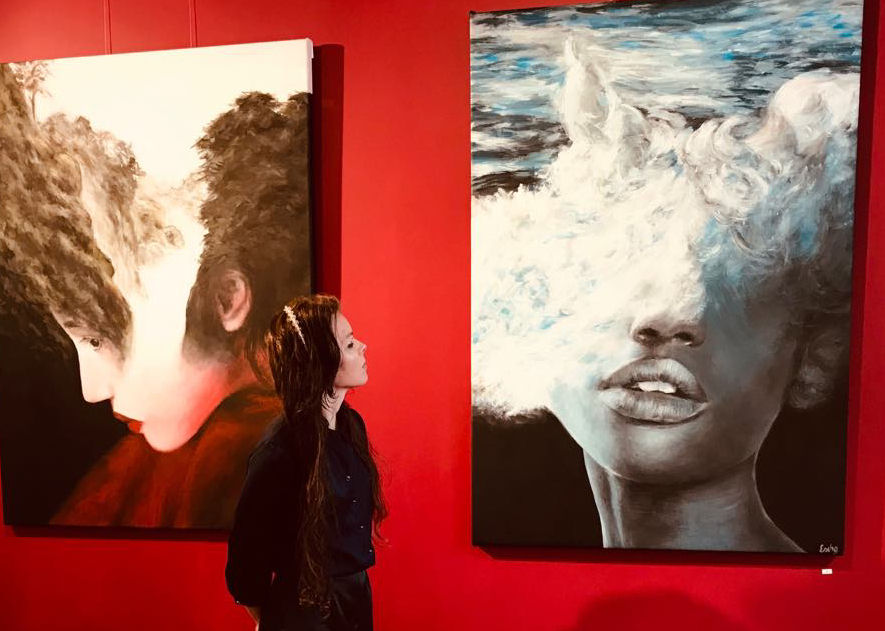 Escha van den Bogerd with two of her exhibition paintings at the opening
All Our Friends - Vincent Duncan's 25 Years in Art
1- 16 September 2018
We are celebrating Vincent Duncan's 25 years as an artist with a special celebratory exhibition.  
Vincent has created a series of Wellington paintings in a new style but still with his trademark bright cheerful colours and fun cheeky outlook.
As one of Wellington's most loved artists it is a great pleasure for the Gallery and All Vincent's Friends to help him celebrate 25 years as a professional artist.
Please view the Exhibition Catalogue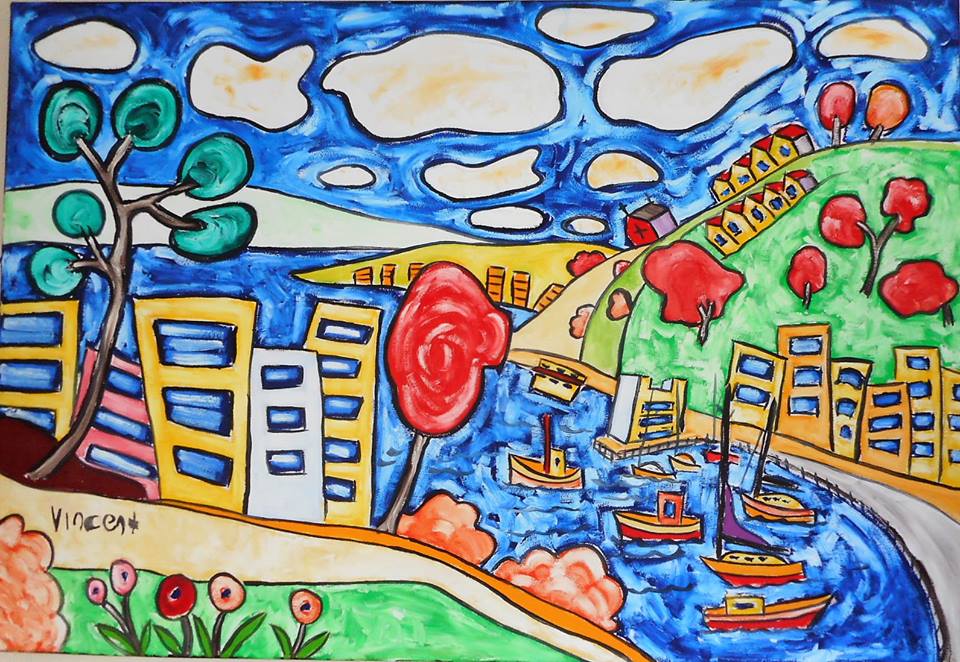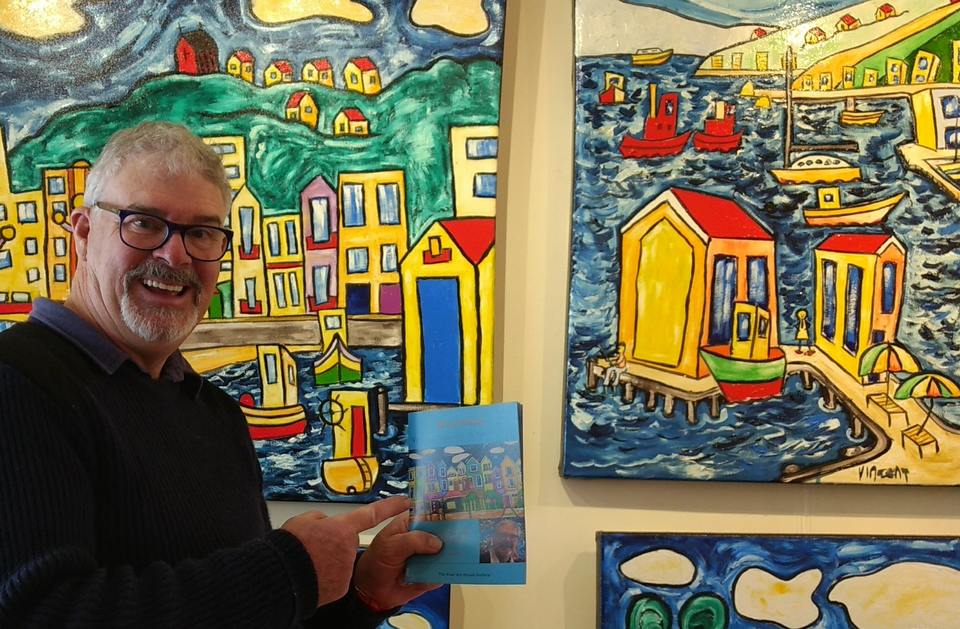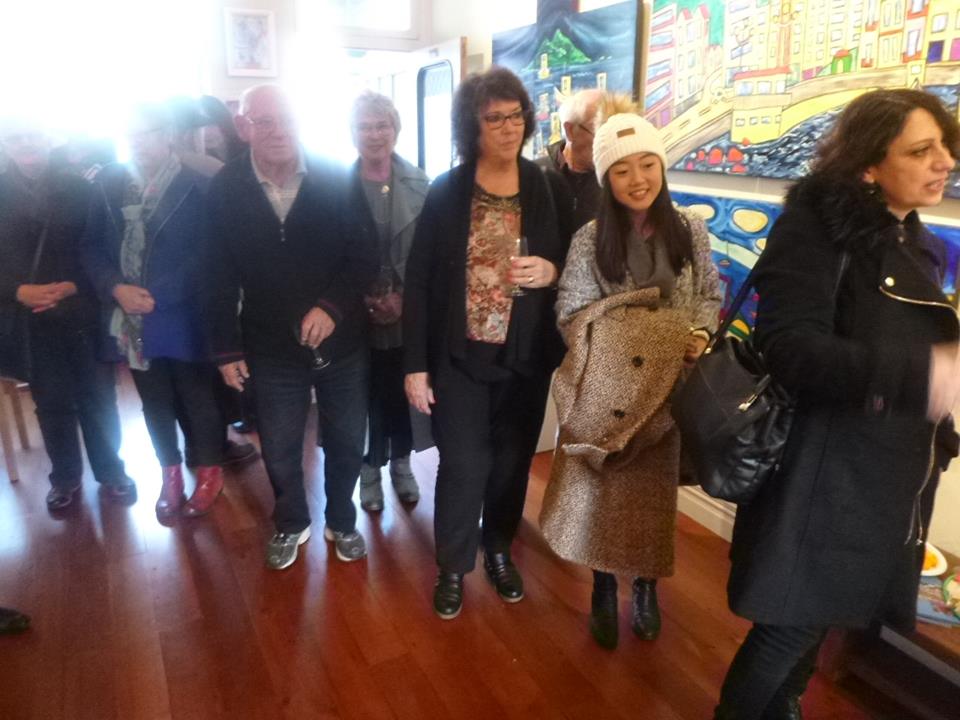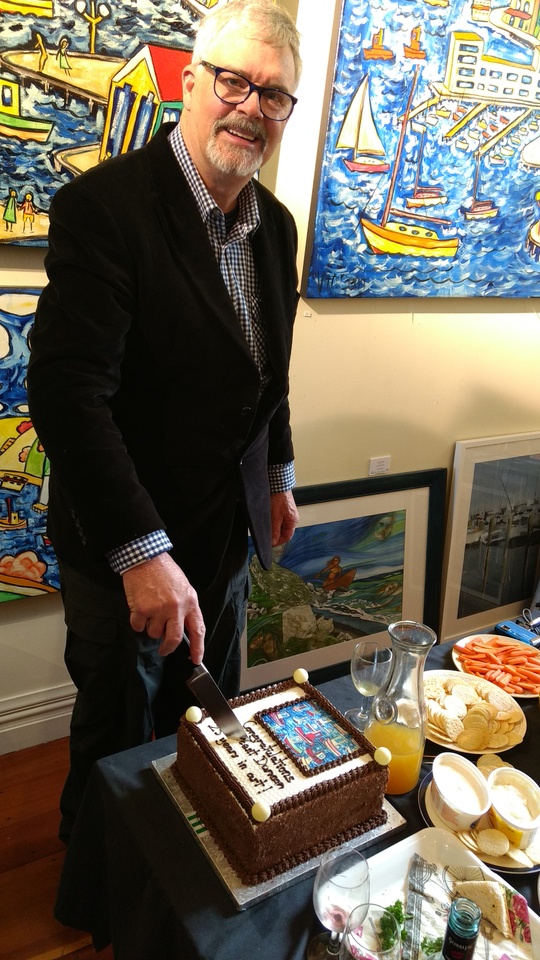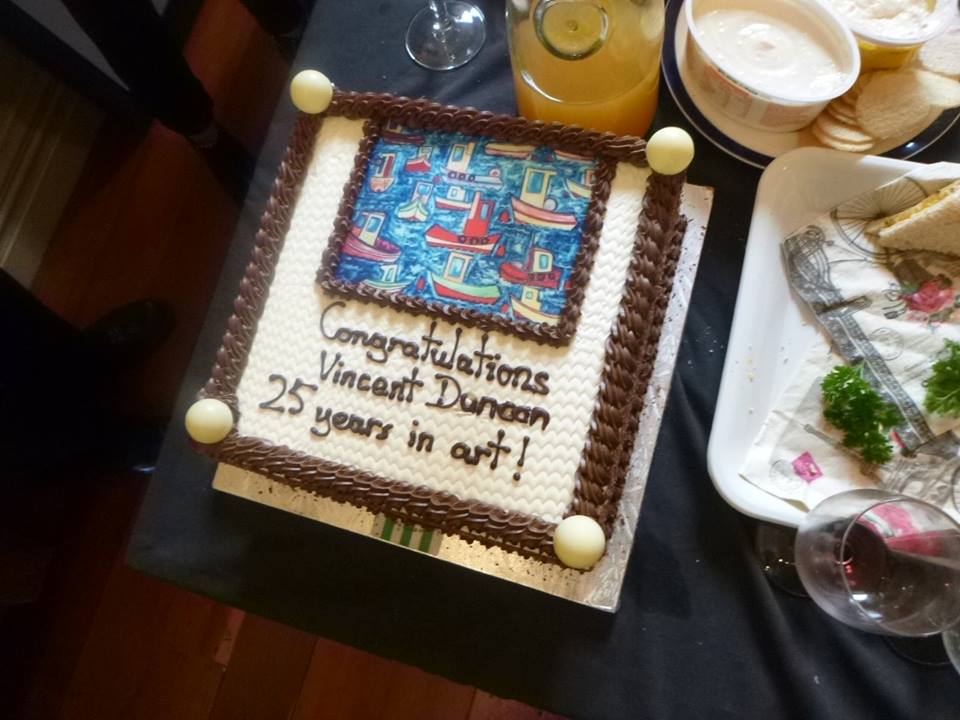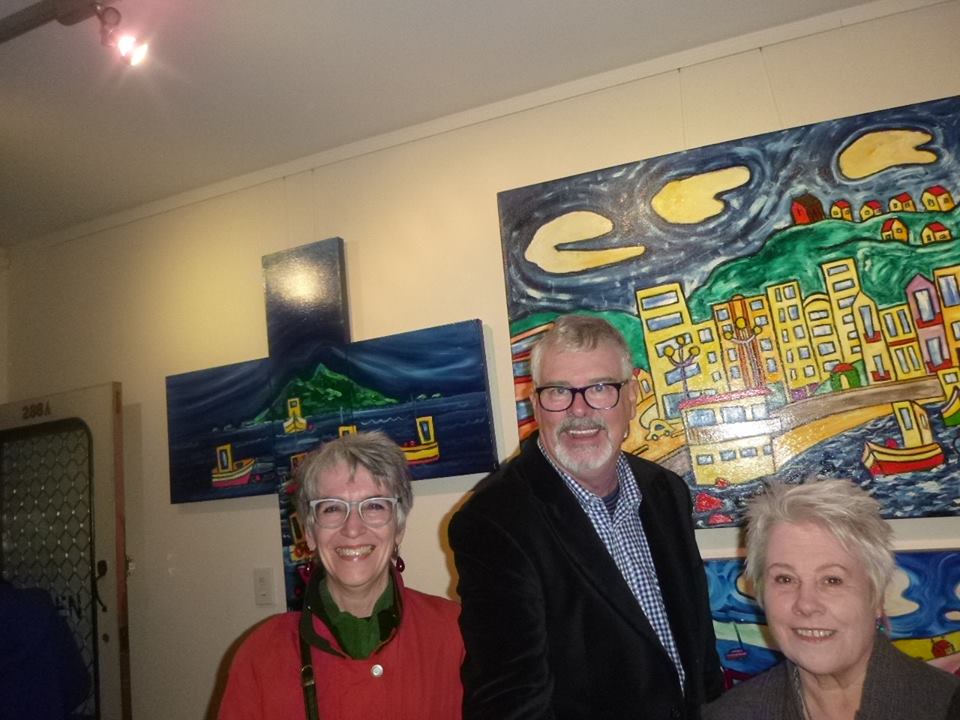 Making My Mark - The Fourth Vocation

- Mark Peck
23 July - 12 August 2018
Mark Peck has been painting since 2016. He first picked up a brush to encourage his granddaughter, Aimee, to pursue and value her artistic talent. But it was also in response to a challenge issued by a customer at Mark's Wellington café, Little Peckish, which he co-­owns with his wife Margaret. 'I'd started to collect art, and regularly discussed artists with Daniel Unvericht when he came into the café. One day Daniel said, "If you are going to be a serious collector you must know how to be an artist." He encouraged me to take a canvas and push some paint around; so I found an old, forgotten canvas in our garage and slapped paint on it. An image emerged, and I was hooked.' Mark says he has no artistic background; at school his talent was not fostered, and indeed his teacher suggested that maybe geography would be a better subject. 'It is fair to say that my first efforts confirmed the art teacher's assessment,' he says. 'But Daniel encouraged me to keep going. 'My good friend the late Bruce Dahl was also a supportive presence. Together, we'd regularly visit Te Toi Poneke for inspiration, and I decided that I should make an attempt to learn a bit about painting. I contacted a tutor listed on a flyer at Te Toi Poneke and started tuition with Stephanie Woodman.

'I think I now have the rudiments of painting, and I'm comfortable with a paintbrush in my hand. I like to produce art that draws you in rather than is technically correct or stunningly beautiful. 'I look at some works and feel like hanging my brushes up, but I keep going and I don't try to get too disciplined in what I do. My early efforts were in acrylic, but I now typically paint in oils. I also enjoy the palette knife.' Mark's approach to his art is to convey the 'feeling' evoked by a place or event. He uses colour to convey emotion, not accuracy. Early in his tuition he became aware of Der Blaue Reiter, a group of German artists who were expressive in their use of colour. He also subscribes to the theory 'done, not finished!' 'I have never finished a painting,' he says, 'but I have ruined more than I care to remember trying to perfect the image.' Mark is enormously grateful to Stephanie and Daniel for their support and encouragement. He continues to be tutored by Stephanie and is a casual student at The Learning Connexion. He will start study for the Diploma in Creativity in term 3, 2018. This exhibition is being held on Mark's 65th birthday. He regards art as his fourth vocation, having been involved in the trade union movement, politics and business.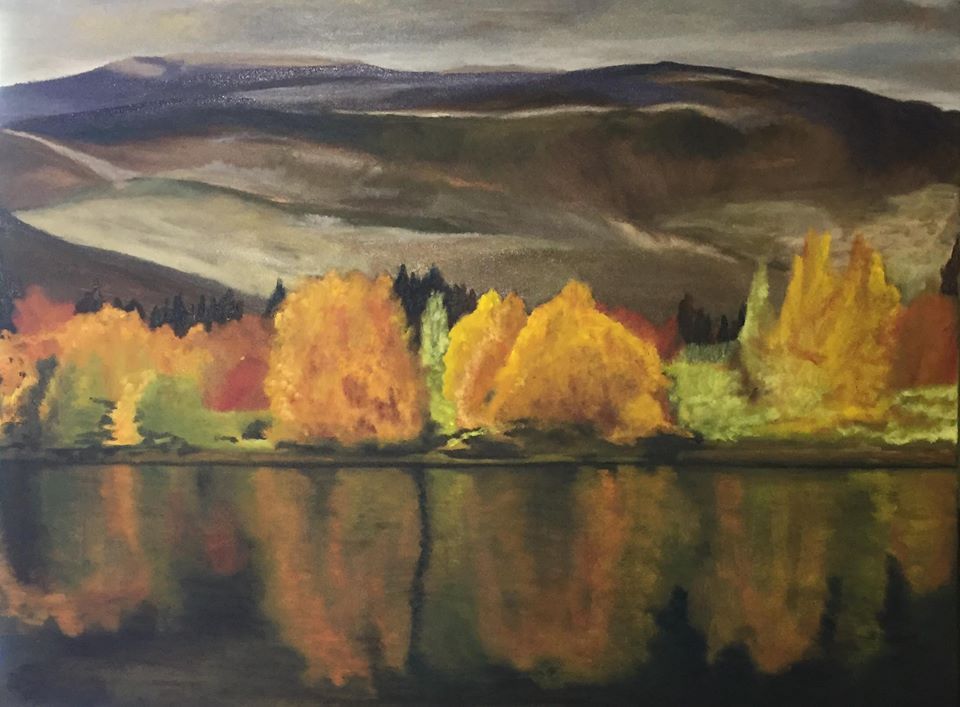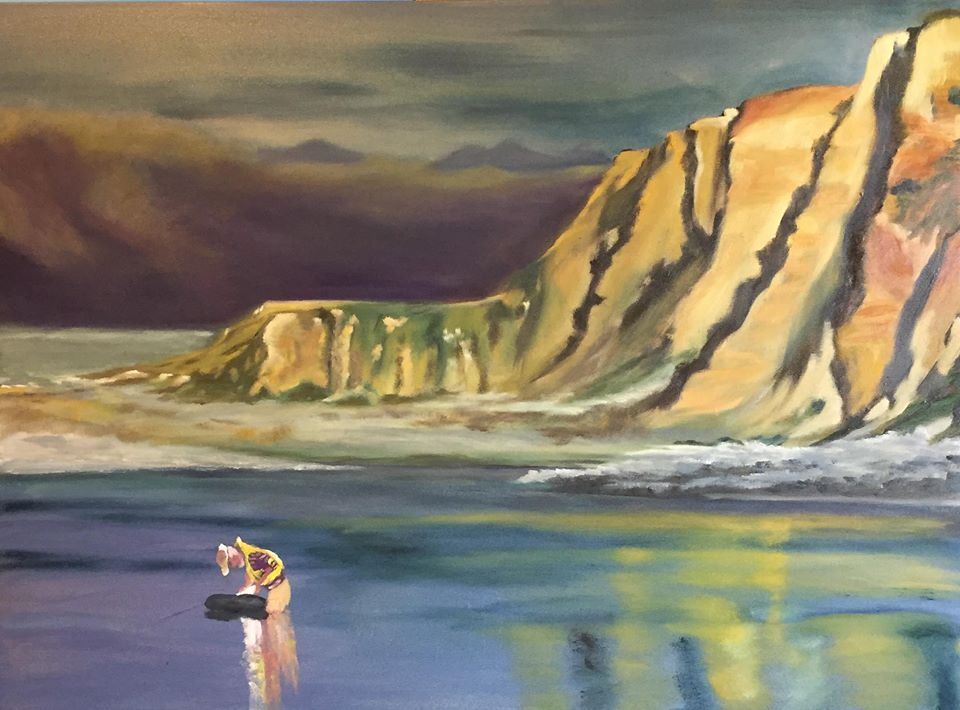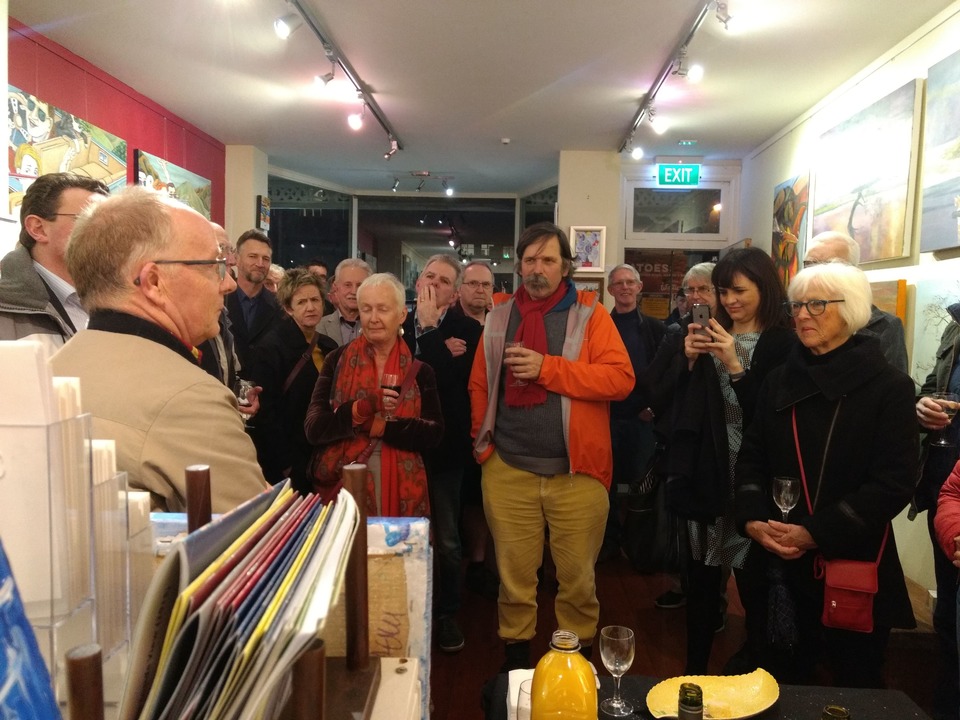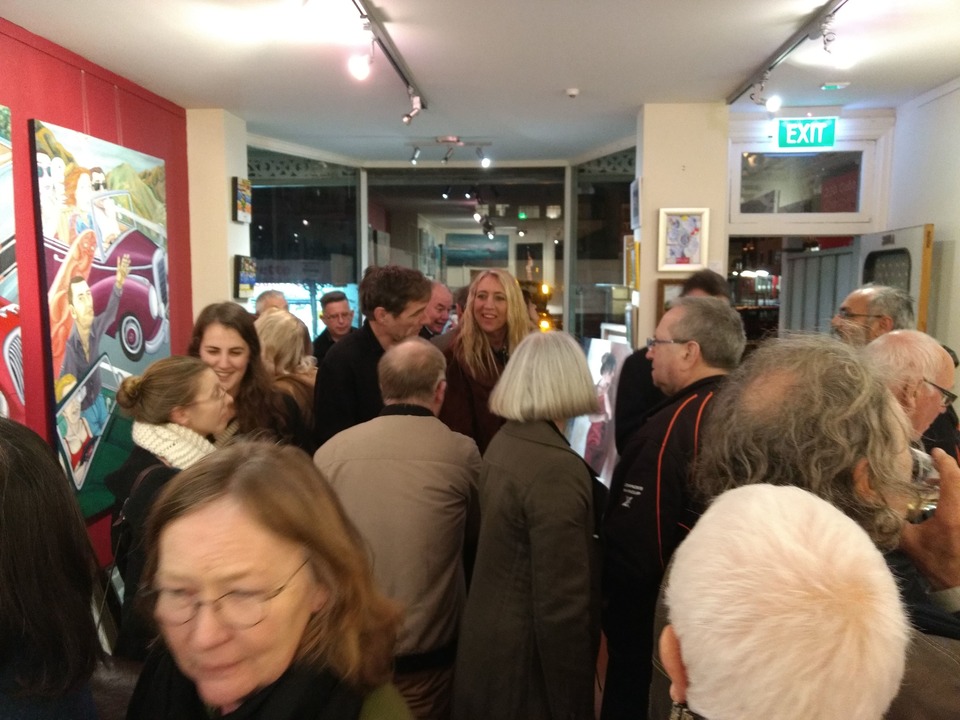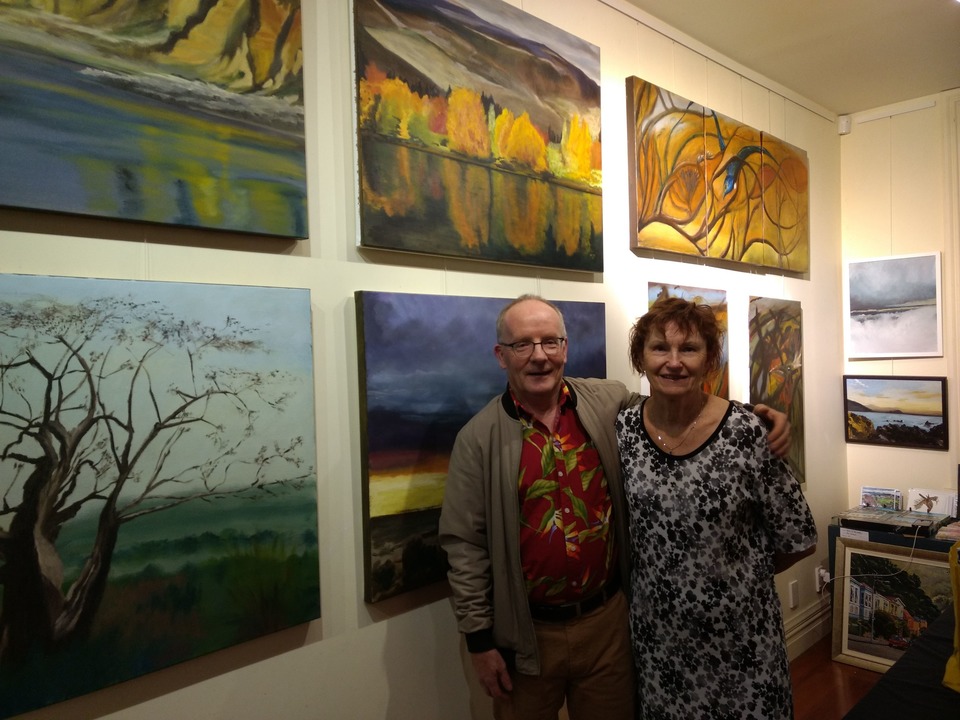 'On the Road'

- Gabriel Heimler and Anna Proc
Opening Southwards Car Museum, Paraparaumu, 26 May 2018 - paintings will return to the Gallery on 12 June then be on display to 30 June

An exhibition by the Wellington based international artists Gabriel Heimler and Anna Proc. Each painting in the series combines a tribute to New Zealander's love affair with cars with a more subtle tribute to some of our most iconic literary and visual artists. An unexpected combination that makes for art that is both thoughtful and with plenty of humour, whimsy and fun.
Gabriel Heimler and Anna Proc are international artists living in Wellington. In 2010 Gabriel and Anna painted the Mover mural on the QTMuseum hotel in Wellington. Gabriel Heimler is known in for his mural 'The Wall Jumper' painted on the Berlin Wall in 1989, one of a number murals painted after the fall of the wall that are now an historical monument, the East Side Gallery, a famous Berlin attraction.  After a 20 year career in Berlin, which included having art sold at Sotheby's in New York, Gabriel with Anna relocated to Wellington where each year they have together painted one new major series of artworks that have been the basis of their annual exhibition.
Question and Answer with the artists
Last year your exhibition featured a waka this year a car. Can you explain the connection?
Wakas were the first vessels to arrive at Aotearoa.  Those on board were on a voyage of discovery. Then when Europeans arrived they settled in towns on the coast accessible by water, journeying inland was difficult.  But  cars gave the opportunity  to explore the land by road.  A new journey of discovery; and so both our 2017 exhibition 'All in the Same Waka' and our 2018 exhibition 'On the Road!' are linked by this common thread of journeys of discovery. As in the US, highway 66, in NZ the State Highway 1 unified the country. The title of the exhibition makes reference to the title of the book of Jack Kerouac 'On the Road'. As Kerouac,  travelling by car was able to talk to those he met and capture the essence  of the beat generation in the US, we use our paintings  with their allusion to the 'road trip' to highlight an aspect of New Zealander's  character. The waka was like a flirt and the car the love.
How did you select which cars to include in this series?
We chose convertibles firstly, and that was because we also interested to present the people and their life, and that is easier with this type of car. We chose the different models because some are very emblematic and mythological, like the Porsch 911, and others like the Ford have a long tradition in New Zealand and some that as artist we chose for their beauty and aesthetic value.
Why do you make reference to some famous NZ artists in your paintings?
We have tried to imagine these artists and their relationship and view of their country. For example in the painting 'Rita'; Rita Angus was one of the first female artists and most famous, she was a motor of New Zealand art history. This is why in this painting a woman drives and she is one of Rita's circle, a friend of Rita, whose portrait was painted by the contemporary and friend of Rita, Leo Benseman. In the painting 'Carving Surf', we make reference Michael Parekowhai with his carving piano, with the curved surfboard. We liked the idea of showing this piano, as it is not only important in New Zealand art, as it was exhibited at the Venice Biennale, it is also a link to us, as I (Gabriel) have Hungarian heritage, and the piano was donated by a Hungarian pianist, Lili Kraus, who as refugee of World War Two settled in the New Zealand, became New Zealander and whose concerts here were greatly treasured by the New Zealand musical community.
All of the paintings have a narrative behind them.
What is the connection between cars and NZ art history?
We are not the first artists to use cars as a subject. In New Zealand  Smither, in the USA Hopper, in Europe Lempicka and many others. But these three are those we thought about when working on this series. New Zealand is one of the few countries, maybe the only country,  where the European  settlement and development of  the country, including development of the literary and visual arts, got underway at the same time as the motorcar was introduced and gradually came into widespread use . Art and the motorcar developed alongside each other, and both are deeply ingrained in New Zealand culture.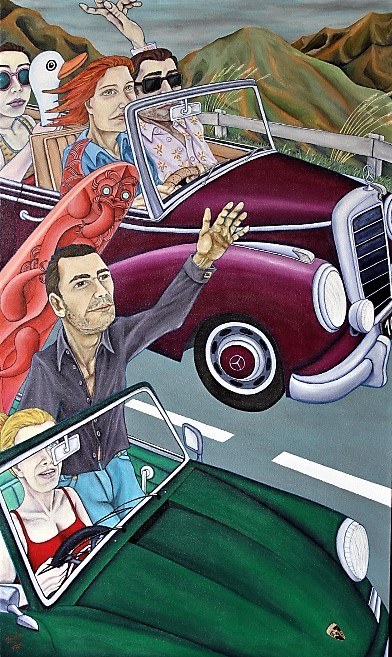 Places to Go

-

Graham Moeller
14 - 30 April  2018
The majesty and mystery of New Zealand's landscapes in oils from Taupo artist Graham Moeller.
From his studio gallery in Taupo Graham has enchanted visitors from around the world and kiwis with his gift of capturing the spiritual majesty of the land. This exhibition captures landmarks many of us know and he does evoking the same feeling of timeless wonder we get when visiting these special places. Fiordland, Aoraki Mt Cook, Mt Ruapehu, Mt Taranaki, Kapiti Island and more.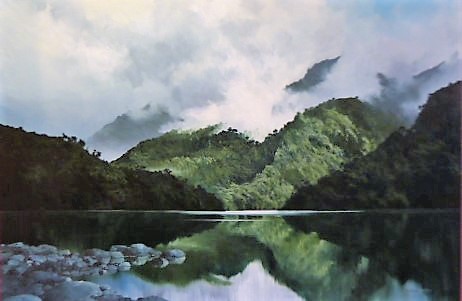 'Fiordland Mist' by Graham Moeller
Visual Dialogues

-

Tatyana Kulida
7- 26 March 2018
Tatyana Kulida is a Russian born artist trained in fine arts in the USA where she lived for 12 years, and in Florence Italy, where she studied and then taught for three years. For the last two years she has been living in Wellington where she runs her own studio gallery and teaches her specialist work, portraiture. Tatyana has exhibited in the USA and  and has two of her works in USA museum collections, in the Cameron Museum of Art and the New Britain Museum of American Art. She has been awarded several prizes including the de László Award for Classical Draughtsmanship from the Royal Society of British Artists, London, in 2015 and the 4th year Prize residency, the Florence Academy of Art 2013-2014.
Tatyana paints portraits from life using classical techniques from western art tradition and heritage. Her talent has been honed by extensive study and practical training at universities in the US and the Art Academy of Florence. The result for this exhibtion is a display of portraits, life studies and still lifes that are of a spellbinding level   not often seen in New Zealand.
"In a world obsessed by ever faster processes, I am dedicated to careful and slow observation from life; spending a long time with my sitter allows the portrait to evolve as a dialogue between myself and my subject"
If you'd like to attend the opening night please rsvp to alan@kiwiarthouse.co.nz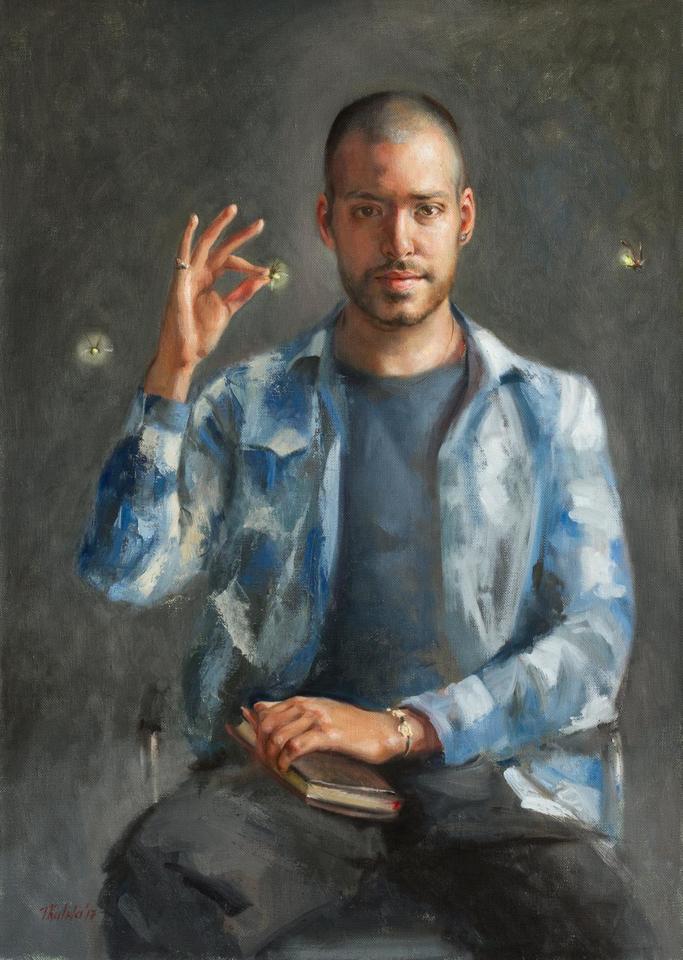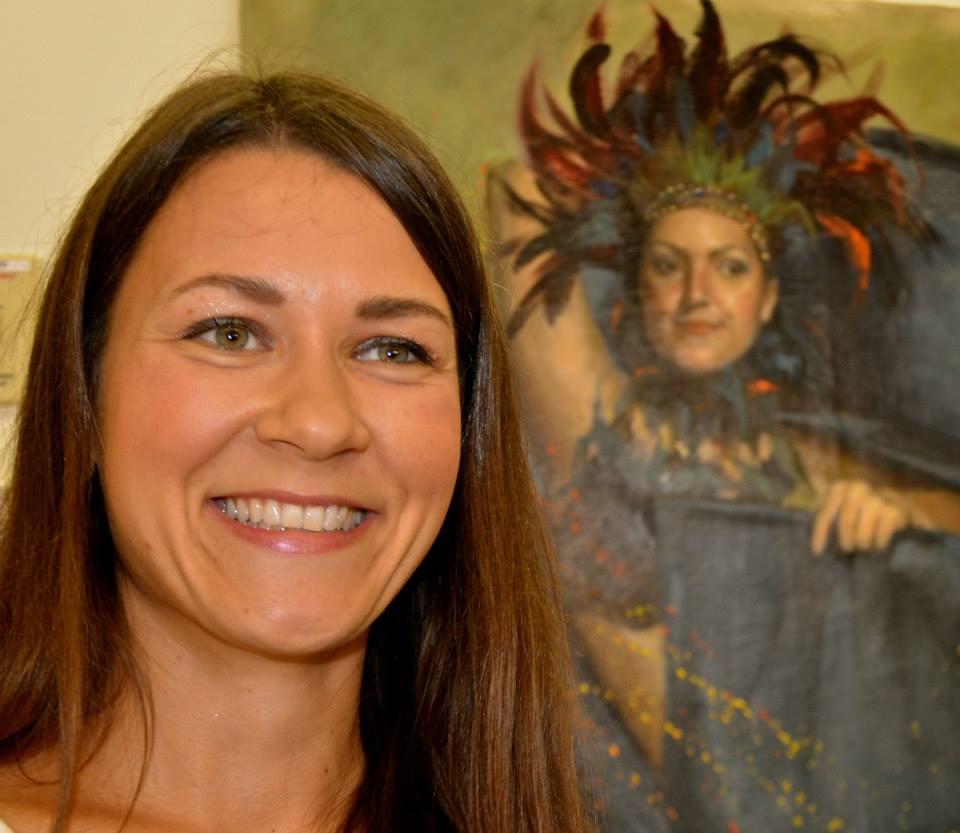 Tetyana Kulida and one of her portraits and nude studies from her exhibition 'Visual Dialogues'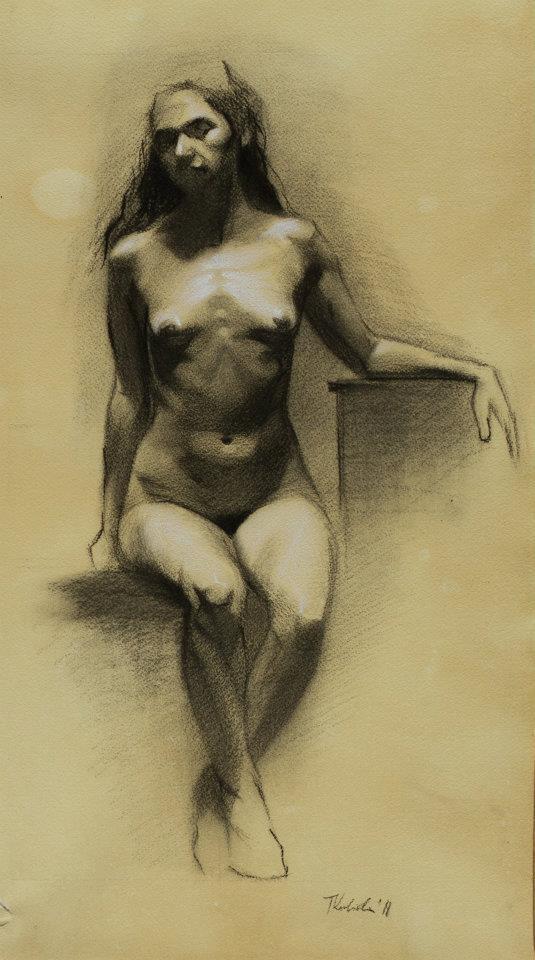 Mythology and the Land

- Joy de Geus
27 September - 17 October 2017
Opening Night 6pm Wedneday 27 September at the Kiwi Art House Gallery
Myths and legends of Aotearoa as interpreted by Wellington watercolourist Joy de Geus
Joy de Geus is already well known for her watercolours of Wellington painted in her own mixed blues and greens that are so typical of the colours of New Zealand. Recently she has been painting scenes that combine the landscape with Maori legends, myths and sometimes historical stories, of local landmarks. This exhibition introduces her latest  mythology paintings, for the first time displayed together,  along with a selection of her tradtional landscapes.
Joy's mythology art  has its own mystical feel and is something unique to her. It draws on the spirit of the land and people that we all feel as inhabitants of Aotearoa.

Id

le

Hours

-

Lauryne Hart
20 July - 12 August 2017

Lauryne Hart is an Auckland based artist whose work is based on the theme 'Life in Colour'.
"My works are examples of the near infinite palate of human experience. I hope to show the rich vibrancy of shared culture that has been such an important part of my life. I portray the diversity, beauty character, vitality and emotions of people in narrative portraits. I try to draw the viewer in with form, colour and expressions".
Lauryne was born and grew up in South Africa and the influence of colour in the clothing and traditions of Africans has influenced her art as has the exuberance in living that is part of the cultural heritage of her homeland.
Her paintings also owe a debt to the art deco paintings of 1930's USA where unemployed artists (Including Diego Rivera) were tasked by the Federal Arts Program to paint murals of everyday life and workers on the walls of industrial buildings.  Sir Bob Jones  commissioned Lauryne to paint five  large mural style panels of office workers moving through their day in front of their office buildings, for the foyers of AIG Building in Auckland and Equinox House in Wellington. A modern echo of that time in art history.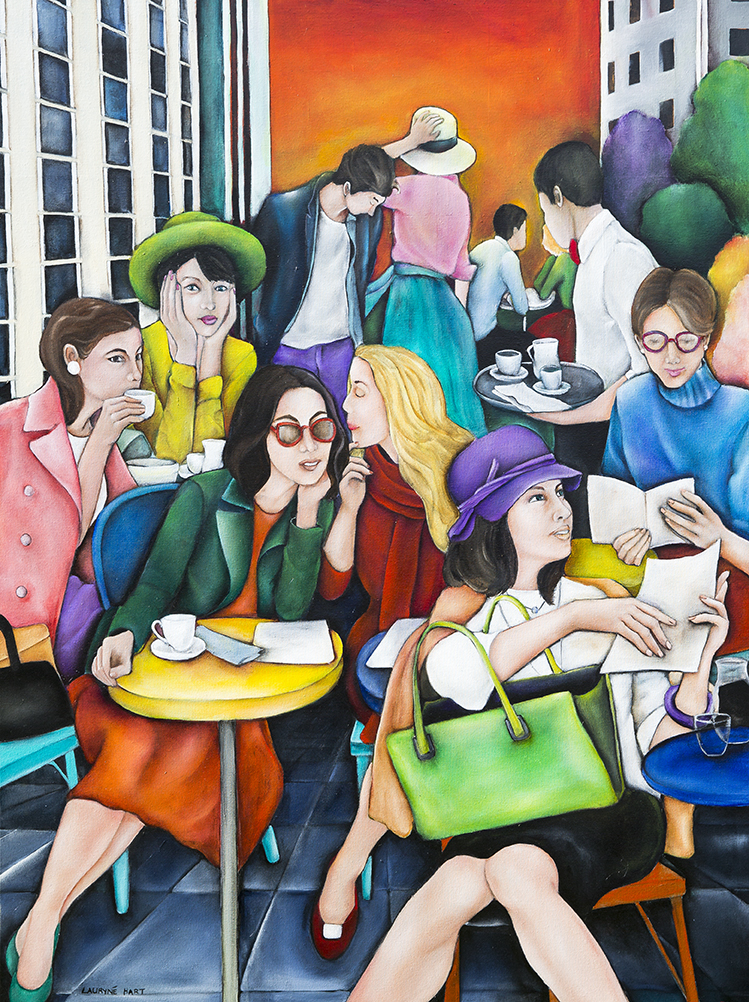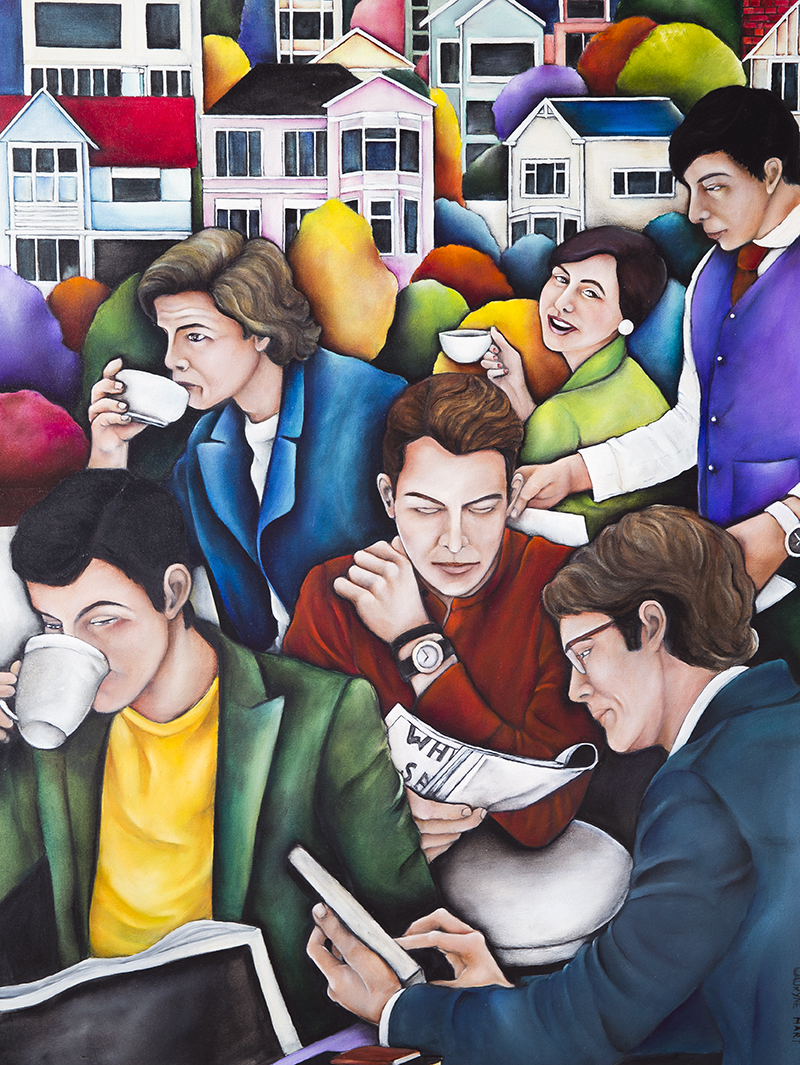 'Cafe Society' by Lauryne Hart                                                                       'Idle Hours' by Lauryne Hart
Lauryne has generously agreed to donate 5% of sales from this exhibition to the Olivier Lacour fundraising campaign for the NZ Red Cross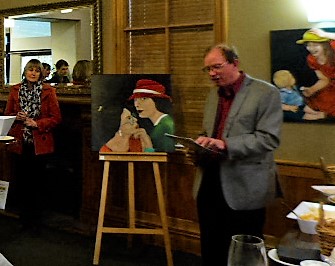 Lauryne Hart and Alan Aldridge at the exhibition opening 12 July
Watching the Old Masters -

Escha van den Bogerd
16 - 30 June 2017
Exhibition Opening Friday 16 June at the Kiwi Art House Gallery 288 Cuba St - Please RSVP to alan@kiwiarthouse.co.nz
The Kiwi Art House Gallery is pleased to present four new paintings from Escha van den Bogerd's new series 'Watching the Old Masters'. These paintings evoke personal memories for the artist and for many of us, a reminder of when we first viewed that special famous painting, one we had seen in books, thought about many times and always wanted to see for real. Escha's new paintings helps us relive that moment, and to think about her characters, as they watch absorbed in their own story.
This exhibition also includes three examples of Escha's work from her figurative series.
Escha van den Bogerd is a Dutch born artist resident in Wellington. Known for her atmospheric female figurative paintings her work is sold internationally. Her new 'watching' series has already proven popular with her overseas clients and the gallery is happy to show for a short time only these three new paintings. Some of the original sold paintings in this series can be seen on Escha's page on the KAH website (under Gallery page) here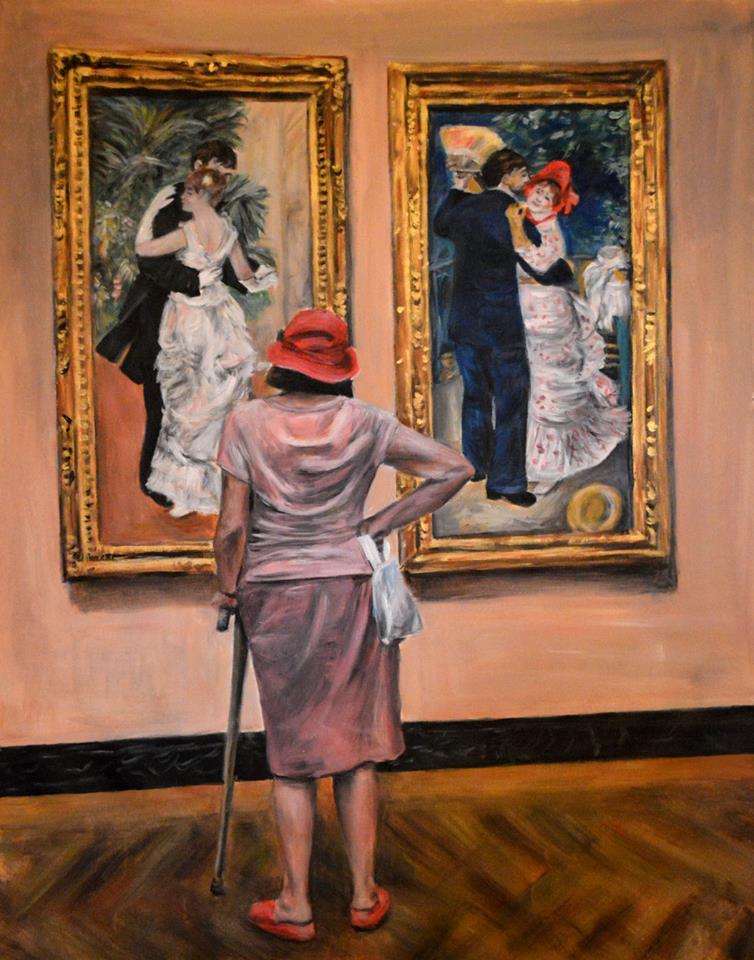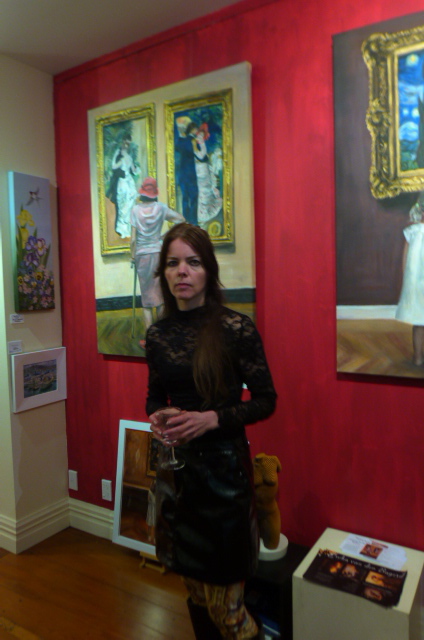 'Watching Renoir' by Escha van den Bogerd                             Escha at the exhibition opening

All In The Same Waka - Gabriel Heimler and Ana Proc
29 March - 19 April 2017
Exhibition Opening Wednesday 29 March at the CQ Hotel lounge 223 Cuba St - Please RSVP to alan@kiwiarthouse.co.nz

Using the imagery of the Waka as a metaphore for Aotearoa New Zealand and our journey; for we have all journeyed here or our ancestors did in the recent past, this new series of seven paintings references the cosmopolitan country we are becoming. It asks us to contemplate the importance and influence of migration, past and present, to what has made and will make our future.
The following is a quote from Daniela Gil Sevilla, cultural attache to the Mexican Embassy in Wellington, who provided literary descriptions for all the paintings in this series, for the exhibition catalogue. This description is for 'Pacific Orchestra' (acrylic on canvas 1690mm x 1000mm) below.
'A vessel for transoceanic voyages has been sighted in open waters. The great Waka Hourua guides the future New Zealanders to Aotearoa. In the canoe, Maoris and Europeans carry their own dreams and stories. Culture and art coexist in the form of a piano, and science and technology are represented by the canoe itself.  The air is full of possibilities. The world is coming to New Zealand but, are there still islands on the planet? Is it the future that travels in the Waka, or just the present, the current New Zealand that slips between the waves and approaches to the world?'
Below, 'Pacific Orchestra'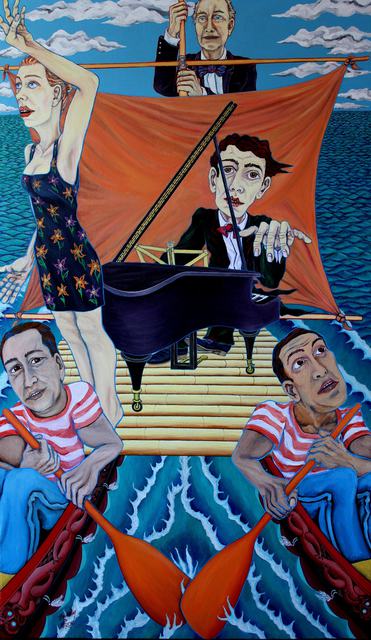 Gabriel Heimler worked as an artist in Berlin for over 20 years before moving to New Zealand in 2010 with his partner Anna Proc. Together they embarked on a new artistic journey. Anna began collaborating with Gabriel on several new series inspired by their life in New Zealand, contributing ideas and painting. In Berlin Gabriel was famous for his 'Wall Jumper' mural on the Berlin Wall, in Wellington he and Anna painted 'The Mover' mural on the Museum Hotel.
Gabriel Heimler's  father is Hungarian and the Hungarian Embassy in Wellington held the first public showing of the new series on March 15, at an event to mark Hungary's national day
'All In The Same Waka' has been supported by Toi Maori Arts and two paintings from the series exhibited in their Wellington exhibition of Maori Art on the 18-19 March.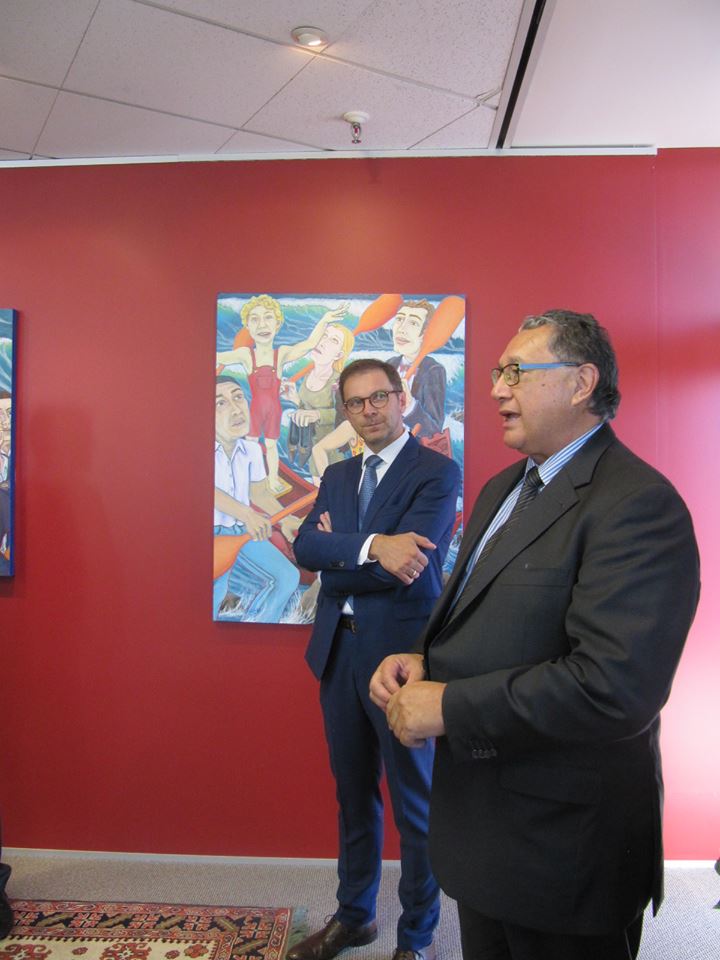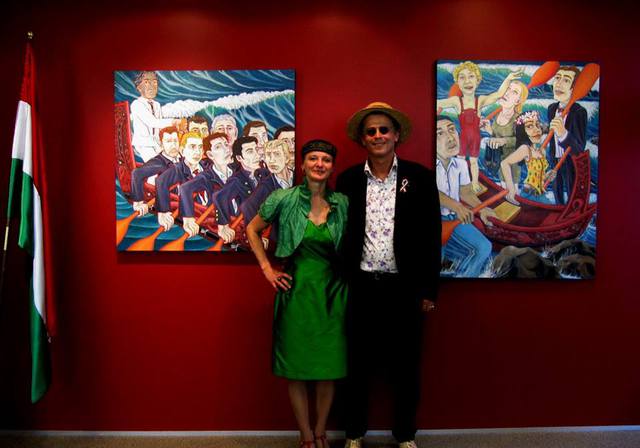 Gary Nicholas from Toi Maori Arts (right) at the Hungarian Embassy        Anna Proc and Gabriel Heimler at the Hungarian Embassy
For more please click below to read the
Images from the Exhibition Opening Night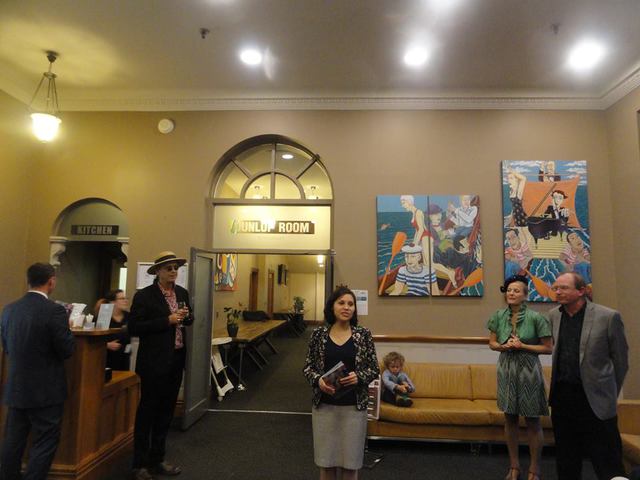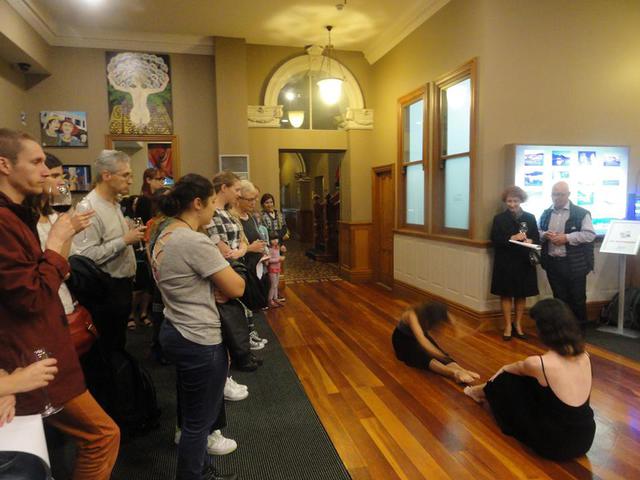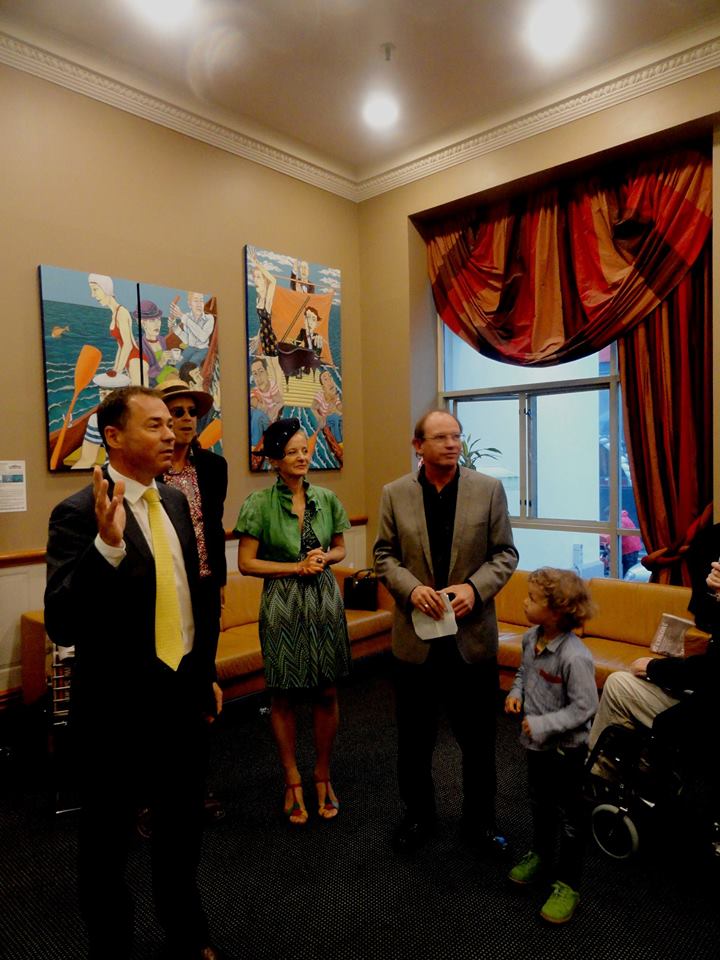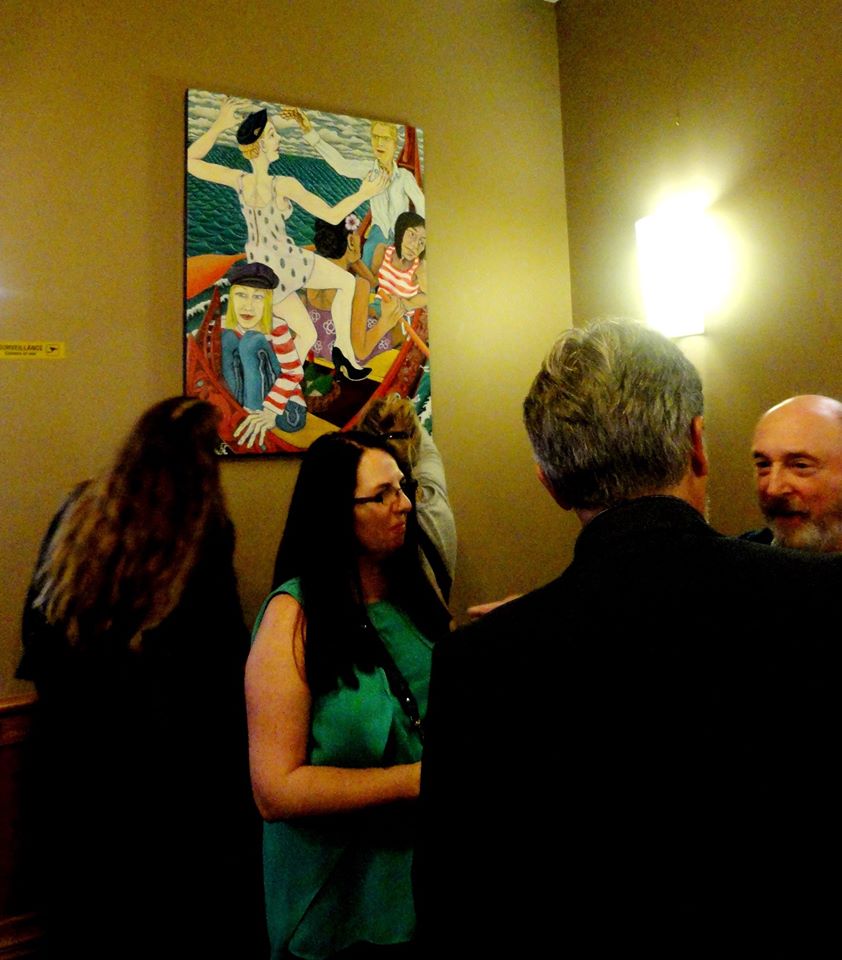 2016 Christmas Exhibition and Party
For Gallery Friends and Artists, the 2016 Christmas Group exhibition will be at the CQ Hotel lounge in Cuba St, Tuesday 23 from 6pm. Featuring a charity auction of a Dianne Taylor painting for the Red Cross, new work from many of the Gallery's most popular contributing artists plus several guest artists. Three artists with international reputations, Lauryne Hart, Claudia Grutke and Gabriel Heimler with Anna Proc will be among the contributors.
Music for the night will be jazz from one of our favourite artists, Alfred Memelink, plus vocals and grand piano from Shan Jordan.
Join the Gallery Friends list for an invitation (and to get the monthly email newsletter)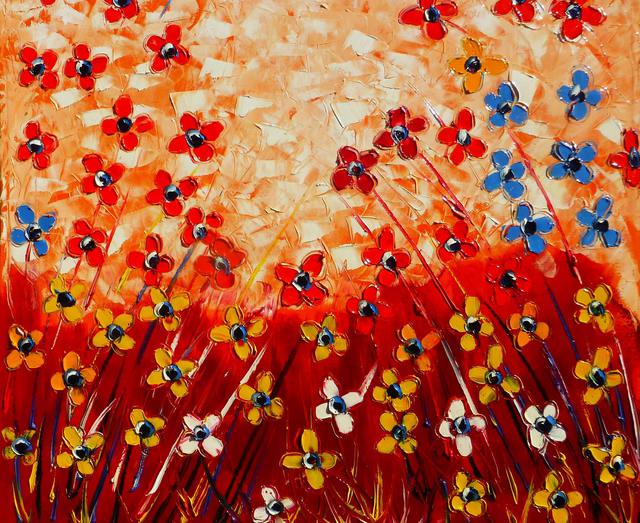 Popular Wellington Artist Vincent Duncan's entry in to the Christmas Exhibition, 'Field of Flowers 4'
Free Spirit
- Jane Hyder
13 - 28 August 2016
Wellington artist and designer Jane Hyder with her second exhibition at the Kiwi Art House shows her latest paintings with an unmistakable taste and feel of the French and
Italian countryside, her inspiration for this collection. Jane's affection for the landscape and architecture of France and Italy and by the colour style of Henri Matisse and her 
interpretation in the romantic style that antipodeans often view European landscapes will bring a warm reminder of travel in Europe for many of us. 
Please Join us at 2pm Saturday 13 August at the exhibition opening.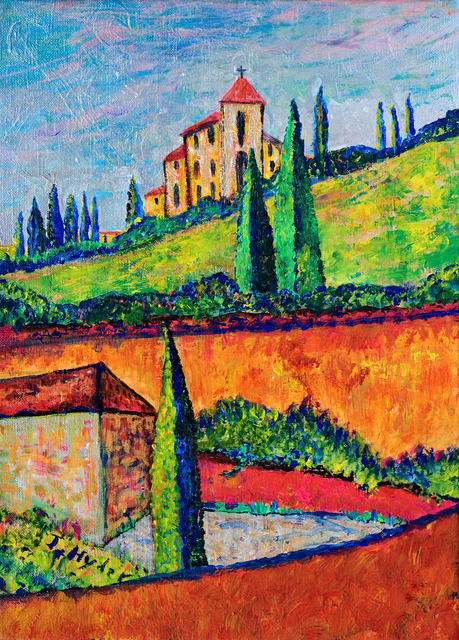 Flights of Fancy - Vincent Duncan

July 13 - July 31 2016
Vincent Duncan is one of Wellington's favourite artists. His paintings are in many homes across the city and in public places like the Wellington Hospital and even the Newtown McDonalds. Some unusual facts; even though Vincent has been selling his whimsical, exuberant oil paintings for over 20 year, would be one of, if not the, the best selling Wellington artist and is in three Wellington galleries, he doesn't sell in any galleries outside of Wellington. Did you know Vincent is an elected member of the New Zeland Academy of Fine Arts? 
His new exhibition wanders over whatever subjects caught Vincent's imagination, music, his favourite subject, the city of Wellington, the flowers of his Waikanae garden, and some humorous pieces like the very clever 'Counting Pukekos'. You can see them all in the exhibition catalogue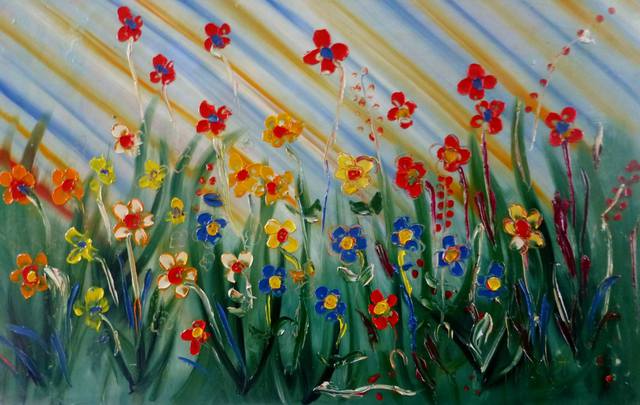 'Smiling Flowers' oil on board by Vincent Duncan

  See a short video of the exhibition

Eye on the Land - Graham Moeller



May 11 - May 31 2016
Taupo based artist Graham Moeller has a eye for the sheer beauty of the New Zealand lansdscape and a knack of capturing that majesty in his landscapes. Following on from his very successful exhibition last year, Graham has produced a selection of new landscapes plus Wellington cityscapes in his new exhibition.
Visit the Gallery during May or see the Current Exhibition page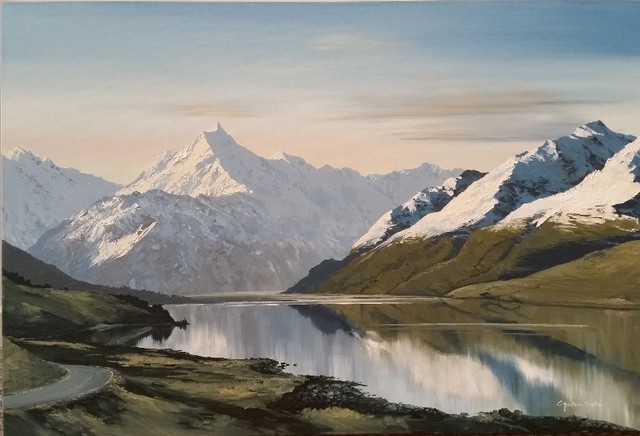 'Aoraki Mt Cook' by Graham Moeller
2015 Christmas Exhibition
A group exhibition of gallery and guest artists. The opening is at the CQ Hotel, 223 Cuba St 6pm Tuesday 15 December. Please contact the gallery for information. The artworks will be on display at the CQ Hotel and in the Gallery until 31 January. Please visit the Current Exhibition page to view.
Gallery artists contributing, Alfred Memelink, George Thompson, Dianne Taylor, Phil Dickson, Vincent Duncan, Escha van den Bogerd, Gabriel Heimler, Anna Proc, Bruce Luxford, Tracy MacDonald, Ronda Thompson, Gary Roberts, Jan Thomson, Jane Hyder, Bill McCormick
Guest artists, Susan Higginson, Samantha Quio, Graham Moeller, Werner Kaffl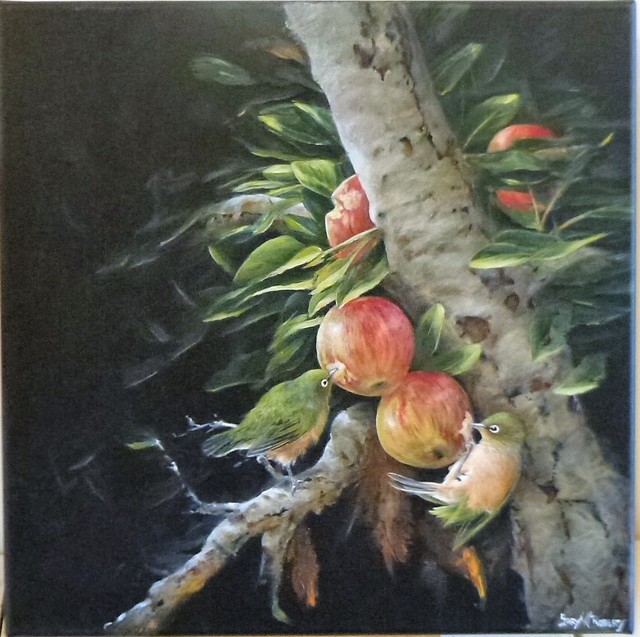 October 15 - November 6 2015
INSIDE VIEW
Gabriel Heimler and Anna Proc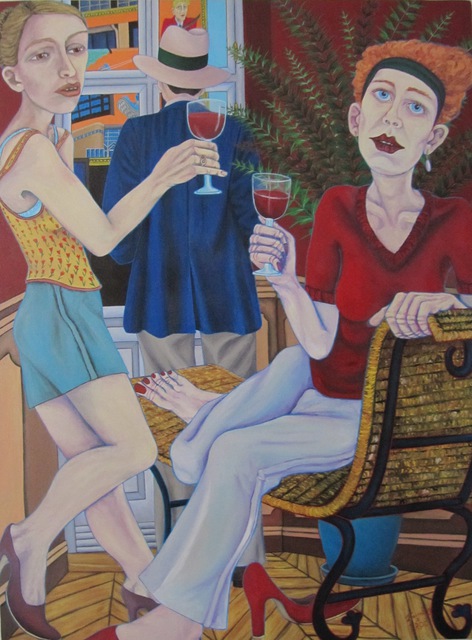 Opening Night Thursday 15 October 6pm. Please RSVP to alan@kiwiarthouse.co.nz
September 18  - 4 October 2015
Transient City
Simon Jay
looks at Wellington City as a place where art, people and architecture combine in a swirling mix of imagination, gritty reality and sentiment. Simon creates this effect by combining the ultra realism  of the photograph, with it's seemly perfect capture of the city's streets and buildings, with his own vision. He creates paintings from the photos where reality is blurred and imagination takes over.
Opening Friday 18 September at 5.30pm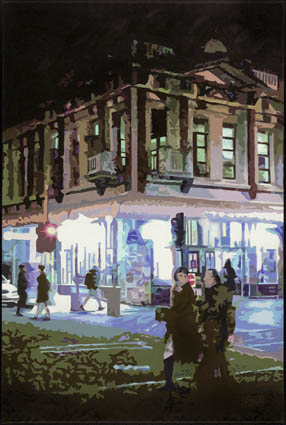 'Heart of the City' by Simon Jay                          'Beacon' by Simon Jay
July 29 August 17 2015
Harriet Bright: Drawings and Paintings
Harriet Bright's drawings and paintings are a collection  of the artists drawings of life models plus paintings of herself, friends and people she has met. Harriets drawings  flow with the confidence of an artist who expresses the beauty of the human body with economy of effort and sympathy for the subject.  Each of her drawings, done simply mostly with colour pencil, has an undeniable  beauty.
In 2010 Harriet was awarded the Adam National Portrait Award prize, and this year painted portrait commissions for the Portrait Gallery, including of war historian Chris Pugsley and writer Ian Cross.
Harriet lives in Pukerua Bay, where she has just finished carving large wooden gates for the local school. She is available for commissions.
Please click here for the exhibition catelogue or see the paintings and drawing on the Current Exhibition page

May 20 - June 15 2015
SPONTANEOUS
Bruce Luxford
With the 100th anniversary of WW1 being commemorated, and in particular the ANZAC centenary this year, it is fitting that Bruce Luxford's new exhibition of abstract and surrealism paintings concides with this anniversary. Surrealism  emerged from the dadaism movement that arose during the war as a philisophical rejection of the war and the societal forces the movement considered responsible. Abstract art was new and was influential in the movement.
Bruce Luxford is a Wellington surrealist artist working from his studio and showroom in Seatoun. His subjects are often topical social and political events. SPONTANEOUS introduces a new direction, a series of paint pour abstracts, alongside a collection of new surrealism. Subjects tackled in these paintings include industrial dairy farming, sale of land to overseas interests, and poking fun at the Wellington Mayor and her drive for cycleways for the city.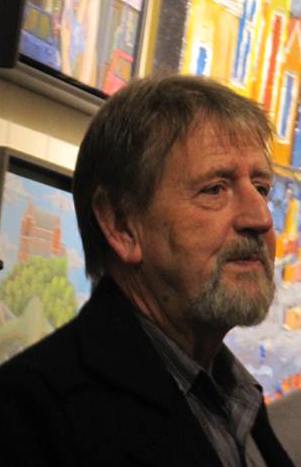 Bruce Luxford
Please see the exhibition catalogue Here
April 11 - May 10 2015
Graham Moeller - Landscapes
Graham Moeller landscapes give his audience the impression the artist personally relates to  New Zealand's wilderness. Looking at his oils you can almost feel the crisp mountain air of Aoraki Mt Cook, or the sultry warmth of the North.  This exhibition showcases his best recent work, split between North and South Island landscapes. The artist's favourite places, from the Coromandel, the central plateau and the majestic mountains of the South. Graham paints from his Taupo studio gallery. You can find him in the shopping centre, painting in his window, with his gallery downstairs. He has painted full time for seven years and gradually built a reputation as both New Zealand visitors and overseas tourists have discovered his work.
Artist's Statement: "If a picture paints a thousand words then I hope that my landscapes reflect a little of me and my love of New Zealand's wonderful scenery and often, tranquil moods. Although I am a totally self taught artist, studying graphic design at Art school in Wellingtin in the 60s taught me composition, attention to detail, and the effects of light, all of which now so greatly influence my style.
All my life I have been acutely aware of my surrroundings and consequently see new and exciting views. I am grateful for the wonderful gift of successfully transposing these observations onto canvas, using oil as my medium. I not only get tremendous satisfaction from painting the landscapes but also derive much pleasure from meeting people from all over the world who share my amazement at the beauty of our magnificent and pristine scenery. To date I have paintings now hanging in private collections in New Zealand, Australia, Malaysia, Japan, Canada, USA, England, Scotland, Wales, Sweden, France, Germany, Switzerland, Lichenstein, Monaco  and South Africa."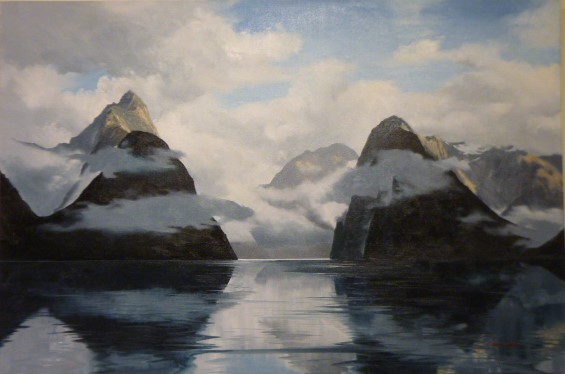 Milford Sound 900mmx 600mm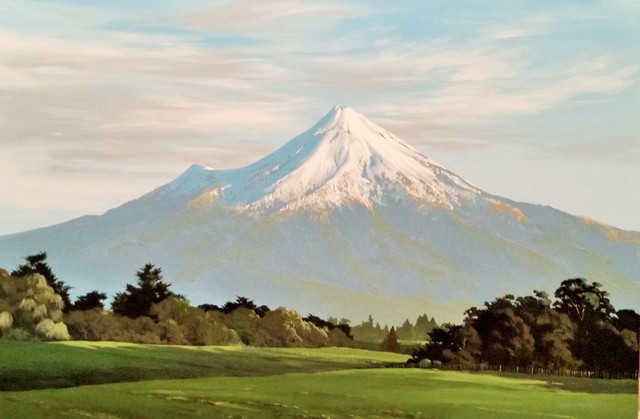 Mt Taranaki 900mm x 600mm
Febraury 25 - March 20 2015
Late Summer Dreams!
An exhibition of watercolours from two of Wellington's most accomplished watercolour artists.
Dianne Taylor and Joy de Geus both have their own colour palettes and styles that are completely unalike, making this exhibition all the more dramatic and intriguing. They have painted scenes both familiar and maybe less so. Taking us on a late summer dream journey around our city, the country and abroad.
Opening Night February 25 from 6pm. Please RSVP to alan@kiwiarthouse.co.nz
See the art on the Current Exhibition page

An Art and Music Evening
A welcome to 2015 evening was held on Wednesday 4th February. Paintings from the Christmas Exhibition are on display and three new works from Gabriel Heimler and Anna Proc were shown for the first time. See some photos here
December 9 - January 2015
2014 Christmas Exhibition
A Group show featuring most of the Gallery's contributing artists plus a special Young Artists section.  Paintings will be in the Gallery over December/January and at the CQ Hotel Cuba St, in the lounge area behind reception. Open to visitors. See the Gallery Facebook page for photos from the exhibition opening and the Current Exhibition page for paintings from the show.
Please visit the facebook album for the collection of small paintings, oils by Vincent Duncan and matted but unframed watercolours from George Thompson, Joy de Geus, Jan Thomson, Phil Dickson and Marie-Claire Coyler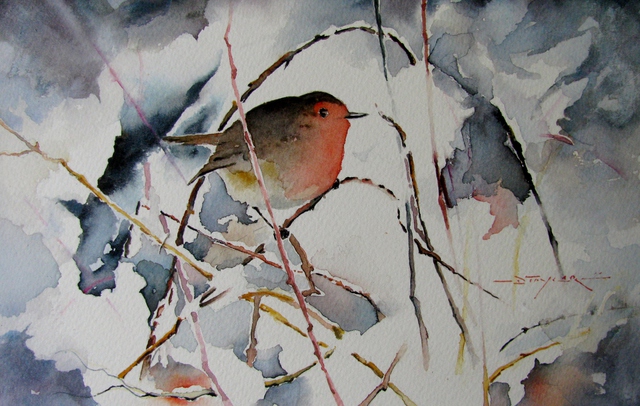 'Tweet' watercolour by Dianne Taylor
November 8 - 30 2014

Four Eyes! - Colour Spies!

Vincent Duncan and George Thompson

You've heard of Five Eyes spies, now George Thompson and Vincent Duncans' four eyes are colour spies, spotting outrageous combinations of colours and creating new spectalular colour paintings that are beyond what either has done before.  Even long time admirers of these two top Wellington artists will be in for a treat and a surprise as both head in new directions,  in what should be seen as  ground breaking exhibition for both. George Thompson is experimenting with textured canvas (spot the artist's old jeans cut up and sewn onto the canvas in 'A Harbour View' and his most edgy work yet, a cross between abstract and impressionism. Vincent Duncan is also experimenting; taking his wild fun side to create crazy Wellington street scenes in acrylic, a departure from his usual heavily textured oils he is famous for. Vincent is not usually a painter of abstracts but his 'Planets' series shows how versatile and great an artist he is. Vincent Duncan is probably Wellington's most popular artist and these paintings show why.

To view all the exhibition paintings please see the Current Exhibition page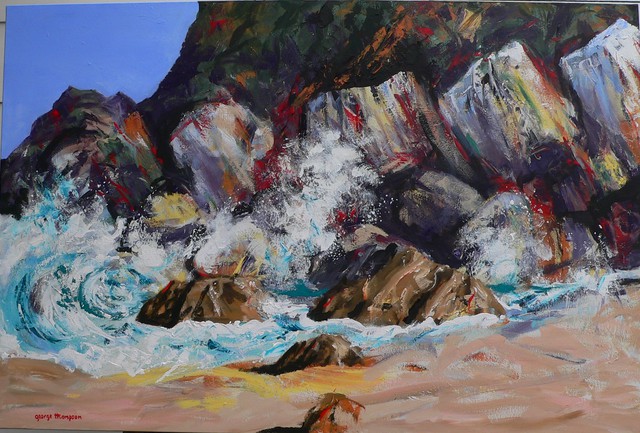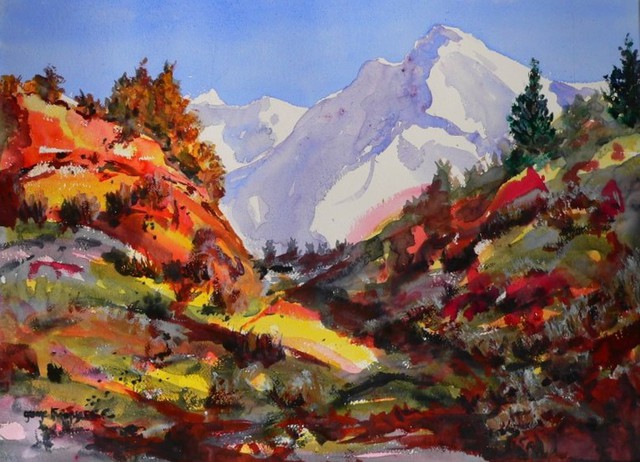 'The White Rocks of Waipatiki'  by George Thompson                                                                 'Mt Ruapehu from the Desert Road' by  George Thompson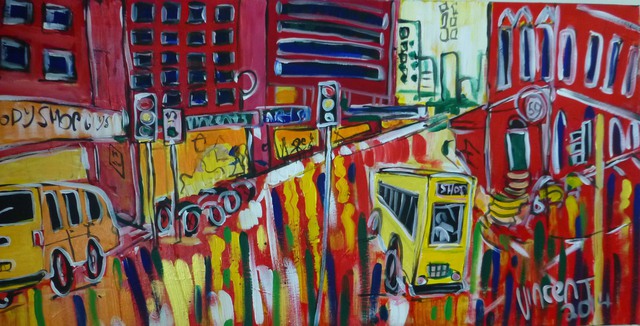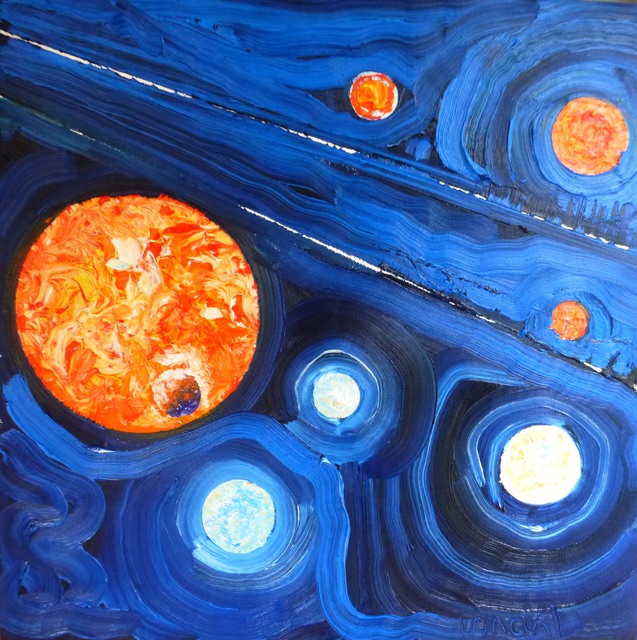 'To Lambton to Shop!'  by Vincent Duncan                                                                                                                                    From Planets series Vincent Duncan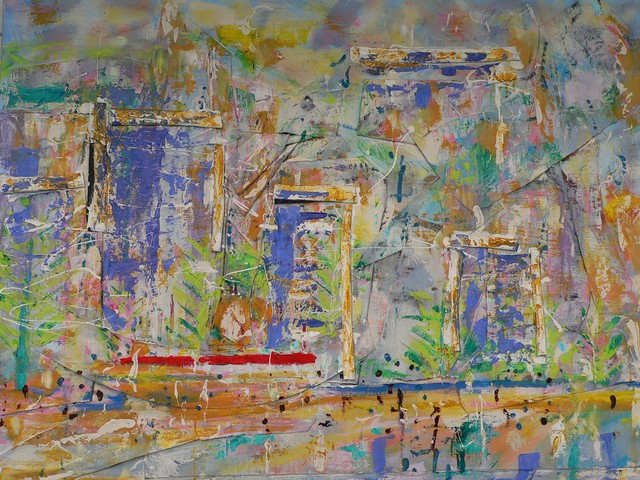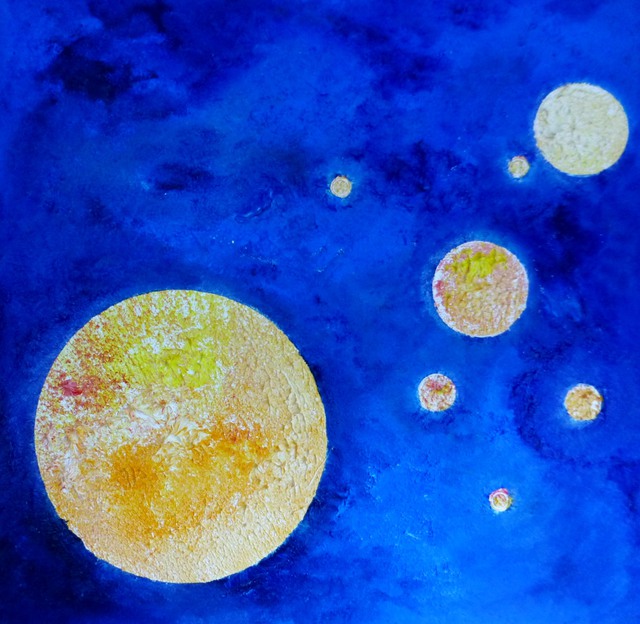 'Freedom' by George Thompson                                                                                                       From Planets series by Vincent Duncan                                             
August 25 - September 20 2014
Phil Dickson's Wellington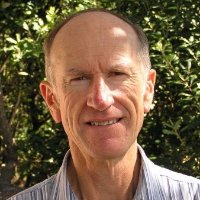 Phil Dickson's first book on his native city Wellington is illustrated by over 60 of his drawings, watercolours and oil paintings. The book is now in the bookshops and the exhibition paintings are on display in the Kiwi Art House Gallery, in the KAH pop up gallery at 39 The Terrace, until September 10, and in the Artspace Gallery in Petone.
See the exhibition catalogue here
To see all the paitings available through the Gallery please visit the Current Exhibition page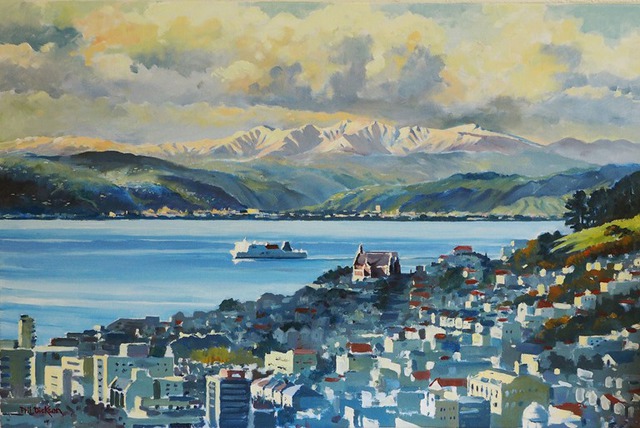 July 10 - 31 2014
Shadow in the Bush
Heimler and Proc
Gabriel Heimler and Anna Proc's tribute to first nations peoples, particularly those few still living in symbiosis with nature; they who live as we once did thousands of years ago. What their future holds. How we can still recognise a part of them and their lives in ourselves when we enter our own bush. Who hasn't thought they've seen the fleeting form of a human in the dark shadows of the trees and felt as our ancestors did.
See a video inspired by the exhibition, here
See the Exhibition Catalogue here
 With Thanks to Exhibition Sponsors Kaye and Maurice Clark and Ron and Shona Coenders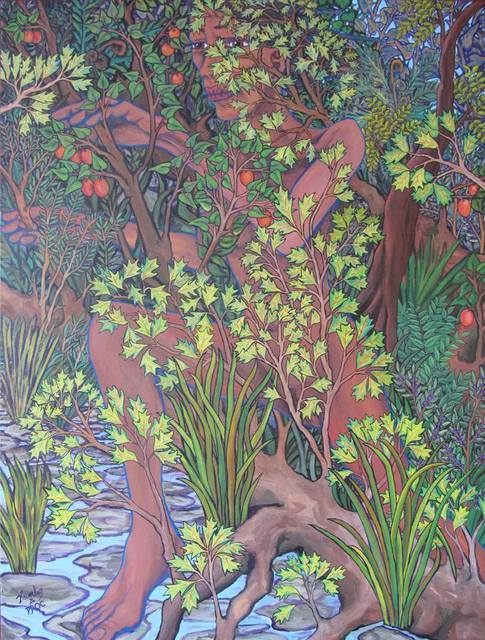 June 4 - 22 2014
'Vincent!'
Wellington's hugely popular Vincent Duncan with over 20 new happy and positive uniquely Vincent interpretations ofWellington.
To see the exhibition catalogue please click here
Vincent Duncan has been painting fulltime since the late 1990s. He has developed into one of the most popular, if not the most popular, Wellington artist. Vincent only shows his work in Wellington and the city is reflected in many of his paintings. His technique of applying oil paint straight from the tube and mixing on the canvas with a palette knife is unusual but not at all unique, two other well know Wellington artists use the same approach. The bold colours, heavy texture and a varnish finish gives Vincent's paintings that extra impact and they sparkle under sunlight or good artificial lights, but the reason they have been so popular is their humanity. From his lovers to boats with personalities to city and harbour scenes that dance and sway with life, Vincent's art pulsates with humour, fun and the joy of life.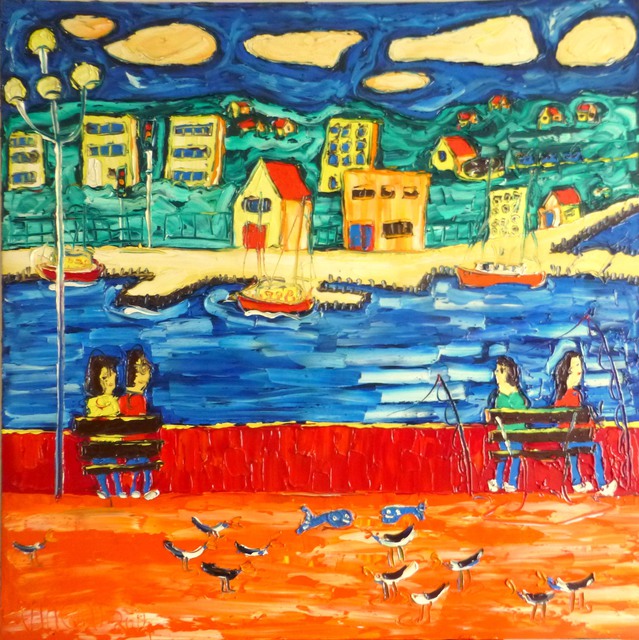 'Watching Fishers Fish!' by Vincent Duncan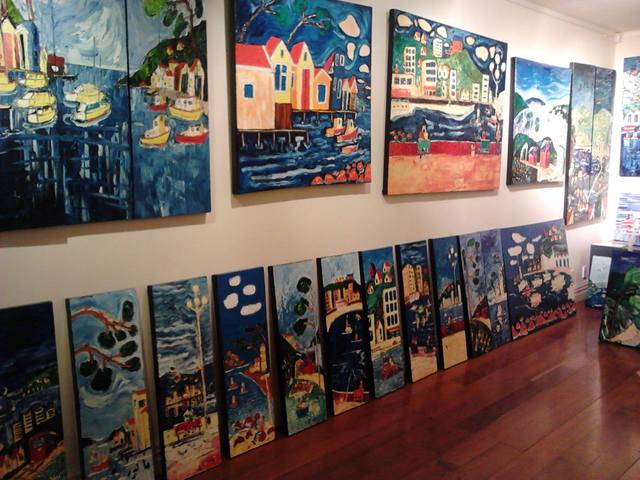 April 9 -27 2014
'Autumn Colours'
A group exhibition by five leading Wellington watercolour artists who are also contributing artists for the Gallery; Alfred Memelink, George Thompson, Dianne Taylor, Phil Dickson and Joy de Geus.
Opening Wednesday 9 April from 6pm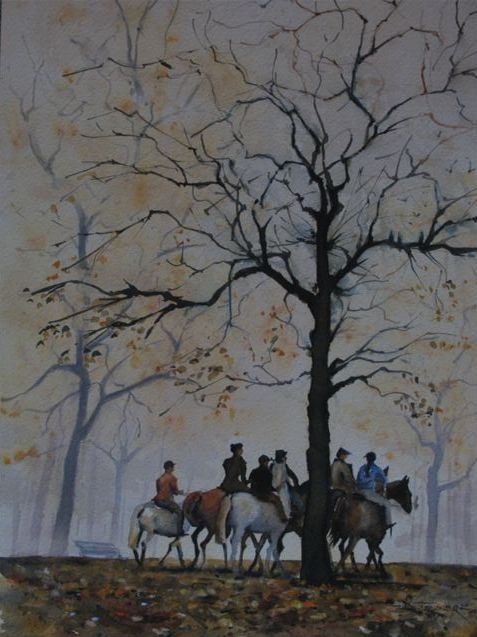 'Autumn Mist' by Dianne Taylor
February 14 - March 9 2014
'Sea Surge!' by Samuel Earp
 
Sam Earp was born in Guernsey, brought up in England and worked in the USA before moving to New Zealand in 2009. Sam might not fit the perceptions of a traditional artist, his profession is arborist, entailing climbing and chopping trees, his interests include his electric guitar and heavy metal music but above all he loves painting the sea in motion.
Sam loves painting the sea in her most disturbed and angry moods, capturing subtle sunlight playing on water and the energy of the waves. I first saw his work by chance, when he had a studio  in Dixon St.   Last year a new job took him to Auckland and now he has a strong collection of work covering scenes from Auckland's west coast beaches to Wellington and the South Island. Painting is Sam's passion and it is very exciting to help him travel to the next stage with his first solo exhibition.  - Alan Aldridge
 Opening Night 6pm Friday 14 February 2014 at The Kiwi Art House Gallery 288 Cuba St
To see the exhibition catalogue PDF please click here
To see photos from the opening and to see which paintings are available please visit the Gallery facebook album here
 
'Towards Pencarrow' oil on canvas by Sam Earp
November 29 - December 20 2013
Rob McGregor's
'Faces of Eve Project'
Exploring the influence of women's magazines. 
Opening Friday 29 November at the KAH pop up Gallery 86 Lambton Quay
Artist's statement
"All the world's a stage, and all the men and women merely players."Shakespeare: from 'As You Like It'
Faces of Eve is a series of mixed media paintings that focus on the manner in which magazines influence, or try to influence, not only what women should buy, but also what they should wear, how they might behave and the faces they should wear. Magazine articles tell about beauty products, fashion items, film stars, royalty, healthy living, drinks, men and sex, while horoscopes advise on work, leisure and relationships. A few headings from one magazine: New season Look; Fashion Stakeout; Fashion Icon; Frock Forecast; Hangover Sex; Obsession with Calvin Klein; The Who the What the Wear the Hair; Best Sex Ever; Beauty Blog. Faces are enhanced with paints and preparations for lips, eyes, eyebrows, eyelashes, skin and hair. Models model ways to look: imperious, haughty sophisticated or like 'the girl next door.' or sexy with pouts and sunglasses.
Rob McGregor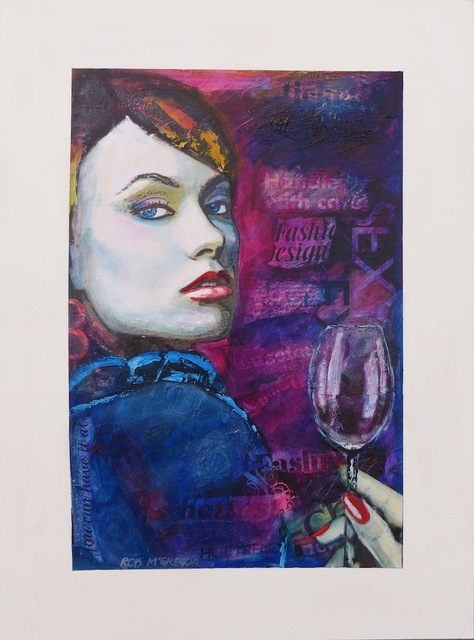 Faces of Eve No 4
See all the exhibition paintings from the 'Faces of Eve Project' and other paintings from Rob McGregor on display with the exhibition on the Gallery facebook page album here
November 7 - 28 2013
Escha van den Bogerd
'La Figura' 
Opening 6pm Thursday 7 November at the CQ Hotel Cuba St.  Escha's exhibition of nude and figurative paintings will run simultaneously at the CQ Hotels 213 - 233 Cuba St and at The Kiwi Art House Gallery.
To view all the paintings from the exhibition online, please see the exhibition album here
Live music by Pepe Becker (soprano) & Douglas Mews (virginalls), performing "La Musica Antica", 17th Century Italian baroque music.

October 9 - 29 2013
Zad Jabbour
'The Summer of 2013 - Making Connections'
Zad Jabbour's realism art transforms reality into imagination. His paintings bring to life our memories in a way that few other artists can. This exhibition of Zad's 2013 paintings captures the warmth and relaxation of the long summer of 2013 with a dose of social commentry, a nod to the modern always connected society we have become.
Zad Jabbour is from Lebanon where he learnt how to paint from his father, a well known artist. Together they worked repairing church frescos. His career includes several  years as the resident artist at the Al Musrif palace in the United Arab Emirates. Zad has lived in New Zealandf for eight years and this is his third exhibition for The Kiwi Art House Gallery.
Please see the Current Exhibition  page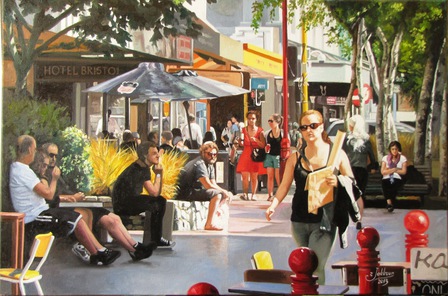 'Sun Stollers Cuba Mall' oil on canvas 900mm x 600mm
August 14 - September 5 2013
Vincent Duncan's 2013 exhibition
Wellington! Wellington!
One of Wellington's most enduring and favourite artists with a selection of new larger works and some from his own collection.
See Vincent Duncan's gallery page for exhibition paintings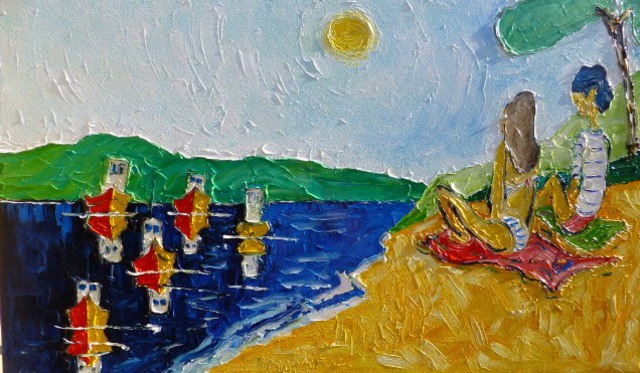 'Watching Us Watching You' oil on canvas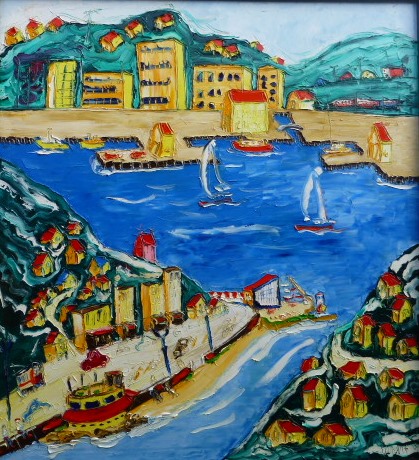 'Wellington! Wellington!' oil on canvas
 July 5 - 25 2013
'Foxtrot Around the Piano!'
By Gabriel Heimler and Anna Proc
An exhibition comprising a series of  four new paintings 'Foxtrot' exploring life through the metaphors of music and dance, plus four supporting paintings, new works on a vartiety of  themes and ideas.
To View all the paintings in the 'Foxtrot' series and the other paintings in this exhibition please click here for the Exhibition Catalogue
 Piano I (1200mm x 1200mm) SOLD
 Piano II (900mm x 1400mm) SOLD
 Piano III (910mm x 1220mm)
 Piano IV (1200mm x 1220mm)
 To see other paintings by Gabriel Heimler and Anna Proc please visit their page here
April 17 to May 12 2013
 

'The Catalogue Exhibition'
The launch of the Kiwi Art House Gallery Catalogue accompanied by an exhibition of the fifteen artists represented in the catalogue.
The artists: Escha van den Bogerd, Vincent Duncan, Phil Dickson, Samuel Earp, Joy de Geus, Gabriel Heimler & Anna Proc, Jane Hyder, Zad Jabbour, Bill MacCormick, Tracy MacDonald, Rob McGregor, Alfred Memelink, Dianne Taylor, George Thompson and Jan Thomson.
Some paintings from the exhibition. All the work will be posted on the Gallery Facebook page soon.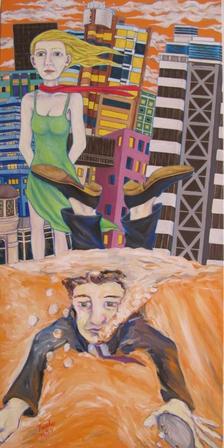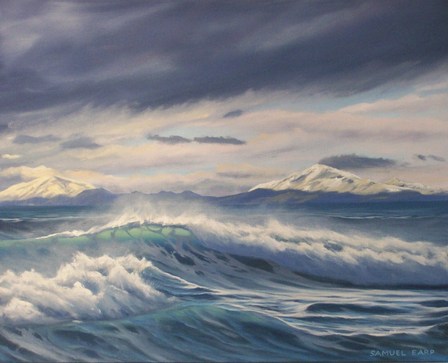 'Sea Surge' by Sam Earp
 'Treasure' by Gabriel Heimler and Anna Proc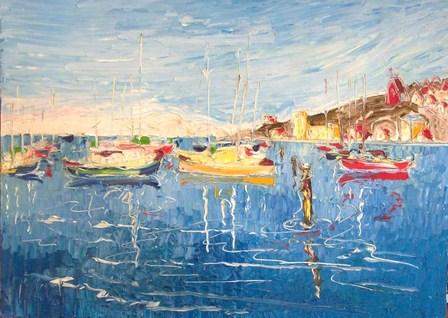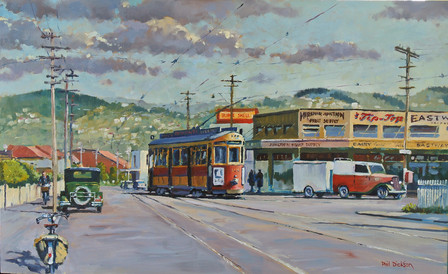 'Chaffers Marina' by Vincent Duncan                                                                'Miramar Junction 1953' by Phil Dickson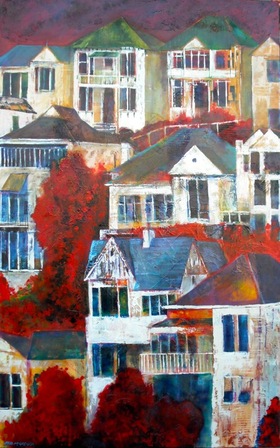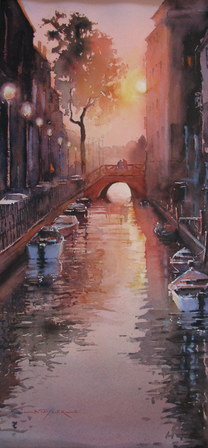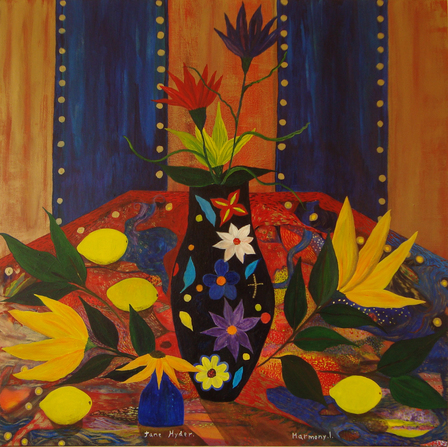 'Sunday Morning' by Rob McGregor                            'Sunset over the Lido' by Dianne Taylor    'Harmony' by Jane Hyder
December 13 -24 2012
'Wellington's Bays and Beaches'
A group exhition by Gallery and guest artists. Including guests Michael McCormack, Owie Simpson and Simon Derby and Gallery artists Alfred Memelink, George Thompson, Vincent Duncan, Dianne Taylor, Phil Dickson, Escha van den Bogerd, Zad Jabbour, Sam Earp, Gabriel Heimler and Anna Proc, Jan Thomson, Joy de Geuse and Rob McGregor
Opening at the CQ Hotel 218 Cuba St. Wednesday 12 September from 6pm and continuing from the 13th at the Kiwi Art House Gallery
Images from the exhibition can be seen on the Gallery Facebook page here
November 11 to 25
George Thompson
George Thompson is a Wellington artist whose artistic inquisitveness leads down many paths and he has gained a reputation as an artist who can paint any subject using any medium. His work has a liveliness and exuberance that is a natural outcome.
This exhibition in watercolour and acrylic showcases George Thompson's latest work and true to his nature he explores a range of subject styles and techniques.
Opening 2-4pm Sunday 11 November.
Below are paintings from the exhibition. For inquiries please contact info@kiwiarthouse.co.nz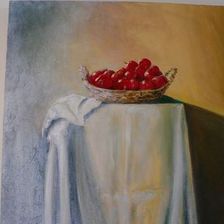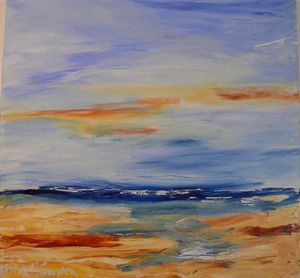 'In from the Hills, Stoneburn Station Tairei' oils 77cm x 61cm $1350        'Windfalls on a Table' oils 72cm x 56cm. $1100                'Kapiti from the Waimeha Estuary' acrylics 76cm x 76cm. $1350
'Looking for Shade' acrylics, 76cm x 76cm. $1350

  'Summer Flowers' acrylics 102cm x 76cm.$1350

 

 

'Poppies dancing in the breeze' 92 cm x 61cm acrylics $1200

'Windblown Ake Ake'  acrylics, 46cm x 35cm. $450

'To be a Horse, to Know that Freedom', acrylics, 51cm x 41cm

$550 (SOLD)

'Memories of Portofino' acrylics,102cm x 76cm. $1350

        

'The Boat Harbour' watercolour 900mm x800mm  $1400                    

'Portrait, untitled' acrylics,61cm x 31cm. $575 (SOLD)

 

 

'Ritchie' charcoal on canvas 76cmx102cm $1100
October 19 to November 1 2012
'The Garden Party'
Jane Hyder
Jane Hyder is a Wellington based painter and printmaker and a graduate from the Massey University Diploma in Fine Arts. The origins of this exhibition date back to a course she attended at The Slade University College London, where her teacher Richaed Kenton Webb encouraged her to develop the expressionist spiritual side of her work.
Art and Literature writer Hamish Clayton wrote of Jane Hyder, "For Jane Hyder art and faith come together in the same place. Working in fauve-expressionist style, her paintings draw on highly poetic, richly illustrative imagery."
Jane Hyder's exhibition is a series of strikingly colourful and exuberant paintings and prints inspired by the Italian Garden
The Opening is Thursday 18 October from 6pm, all welcome.
Come along for an enjoyable evening featuring flowers from Cuba St Florists Manuela and food from the famous Martha's Pantry plus Jane's own special chocolate dipped strawberrys!
| | | |
| --- | --- | --- |
| 'Pacific Peace' 750mm x 750mm acrylic on canvas $1000 (SOLD) | 'Jane's Garden' 500mm x 600mm acrylic on canvas  $500 | 'Garden Diptych' 600mm x 600mm acrylic on canvas $500 |
| 'Floral 1' 350mm x 350mm acrylic on board $500 (SOLD) | 'Harmony 1' 900mm  x 900mm acrylic on canvas $2100 | 'Italian Garden Karori' 360mm x 360mm acrylic on canvas $380 |
| 'Old and New 2' mono print woodcut 450mm x 350mm $350 | 'Pacific Power' woodcut print 400mm x 500mm $350 |   |
Sept 6 - 27 2012
'Happy Pacifica'
Gabriel Heimler and Anna Proc
An exhibition of new and recent work plus some examples from their two previous exhibitions, 'Dancing in Aotearoa' (2010) and 'The Beehive in Cuba St'(2011). The new paintings include references and links to their first two exhibitions to unify their work in New Zealand.
Gabriel Heimler is well known for his mural 'The Wall Jumper' on the Berlin Wall, a painting that along with work from other artists turned a section of the Berlin Wall into an historical monument, and the last piece of the Berlin Wall still standing. In Wellington Gabriel with partner Anna Proc created 'The Mover' mural on the Museum Hotel. 'The Mover' celebrates the engineering feat of moving the Museum Hotel on rails in the 1990s. Gabriel used the same character in 'The Mover' as for the 'Wall Jumper' back in 1989, to symbolically link Wellington with Berlin, New Zealand with Europe.  You can see images of these two murals on Gabriel Heimler's gallery page here
Some of the exhibition paintings
'Happy Pacifica' by Gabriel Heimler and Anna Proc (SOLD) 1

acrylic on canvas 900mm x 1200m $4200

 

'The Ballroom' by Gabriel Heimler and Anna Proc

acrylic on board centre 1200mm x 600mm wings 600mm x 600mm $6200
            
'Piscis Era' by Gabriel Heimler and Anna Proc                                'Flower Power' by Gabriel Heimler and Anna Proc
acrylic on canvas 600mm x 900mm $2800                                           acrylic on canvas 600mm x 900mm $2800
 

'Time Birth' by Gabriel Heimler and Anna P

acrylic on canvas 760mm x 1000mm $3200

'Return Home' by Gabriel Heimler and Anna Proc

acrylic on board 600mm x 1200mm $2600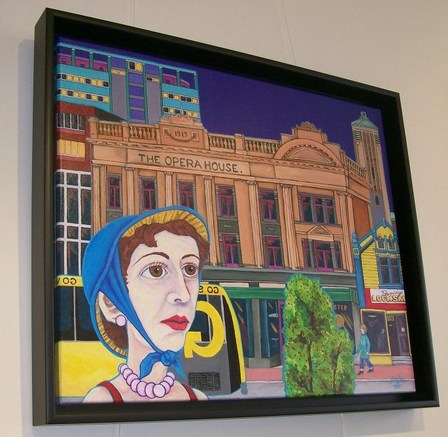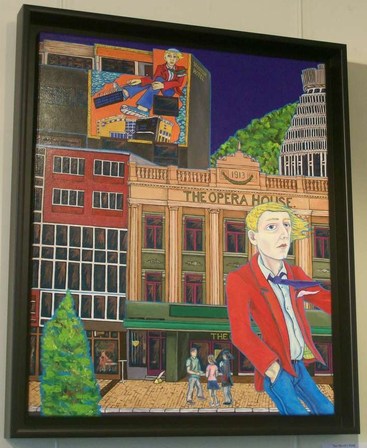 'The Diva' by Gabriel Heimler and Anna Proc                                                   'The Mover's Song' by Gabriel Heimler and Anna Proc
acrylic on canvas 500mm x 600mm $1900                                                         acrylic on canvas 500mm x 600mm $1900
 'Human Waves' by Gabriel Heimler and Anna Proc

acrylic on canvas 600mm x900 $2400

'New World' by Gabriel Heimler and Anna Proc

acrylic on canvas 600mm x 500mm $1900
'La Serenissima'

July 7 - 29 2012
An exhibition of Venetian inspired paintings by Escha van den Bogerd.
Escha's paintings are inspired by the old Italian and Dutch masters. Her work has been exhibited, sold and published worldwide for over 17 years.
For size and price details please visit Escha van den Bogerd's Gallery Page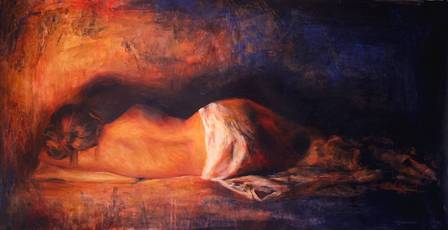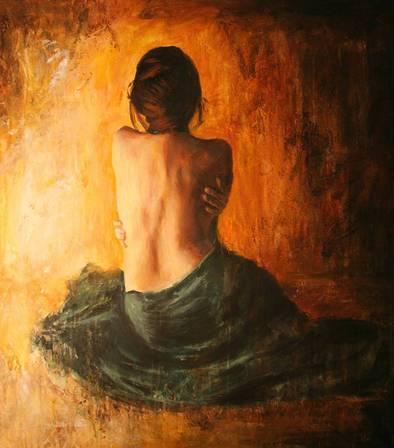 'Devoto'                                                                                                         'Sicuro'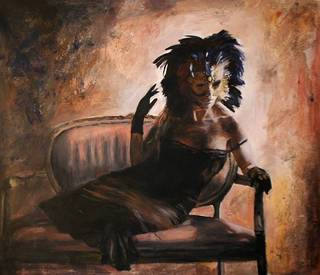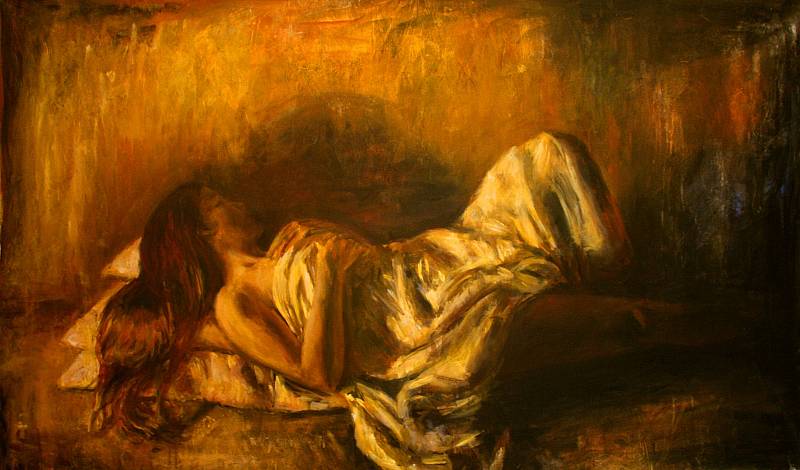 'Obumbrata'                                                              'Individuale'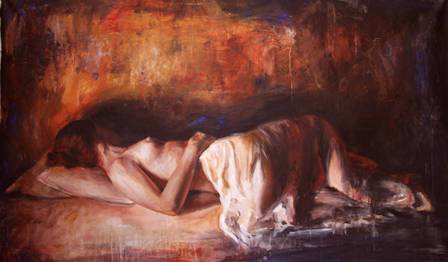 'Notturno'                                                                                                                'Grandezzal'
  
'Fiorenza'                                                                                                   'Columbina'
'The Art Partnership Exhibition'
7-17 June 2012
The Art Partnership is a collective of well known Wellington artists who came together to create a community of artists with diverse techniques, styles and subjects but united by a common vision; to promote art with a New Zealand and pacific focus but with an outreach to international art. Many of the six members are either new New Zealanders or first generation.
Most of The Art Partnership artists are new to the Kiwi Art House Gallery, so this exhibition is a chance for regular Gallery visitors and friends to view something completely new.
The Art Partnership artists are, Bruce Luxford, Morag Stokes, Sandra Wong, Miranda Woollett, Chris Partington, and Rosalie Jurczenko. Their exhibition includes finely detailed constructed landscapes, meticulous mind extending surrealism, structured abstracts, New Zealand bird interpretations and still life.
To Visit the Art Partnership website for more information on each artist and images of all the paintings with size and price details please click here

And visit the Gallery Facebook page here, for images of the paintings and the opening night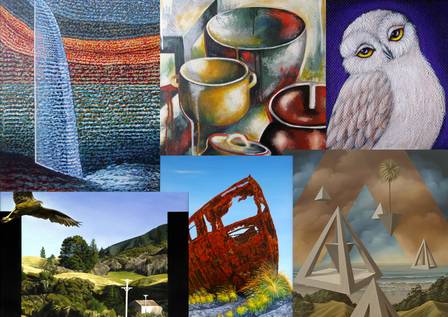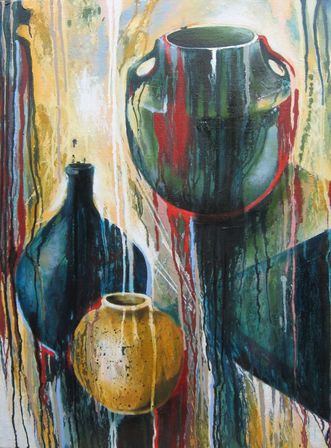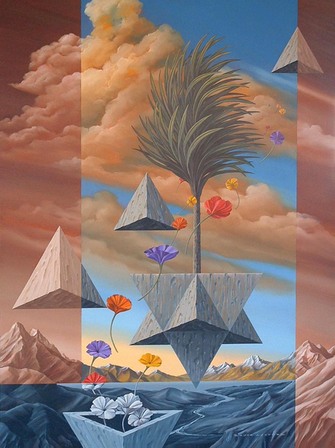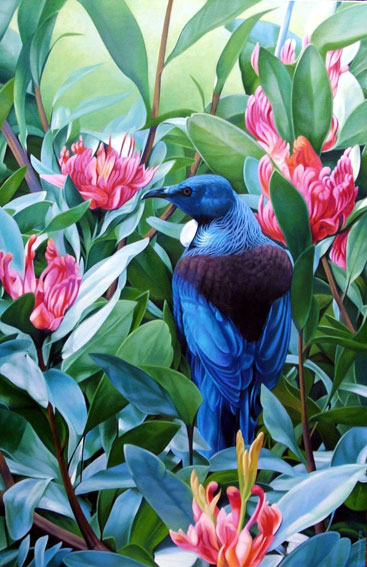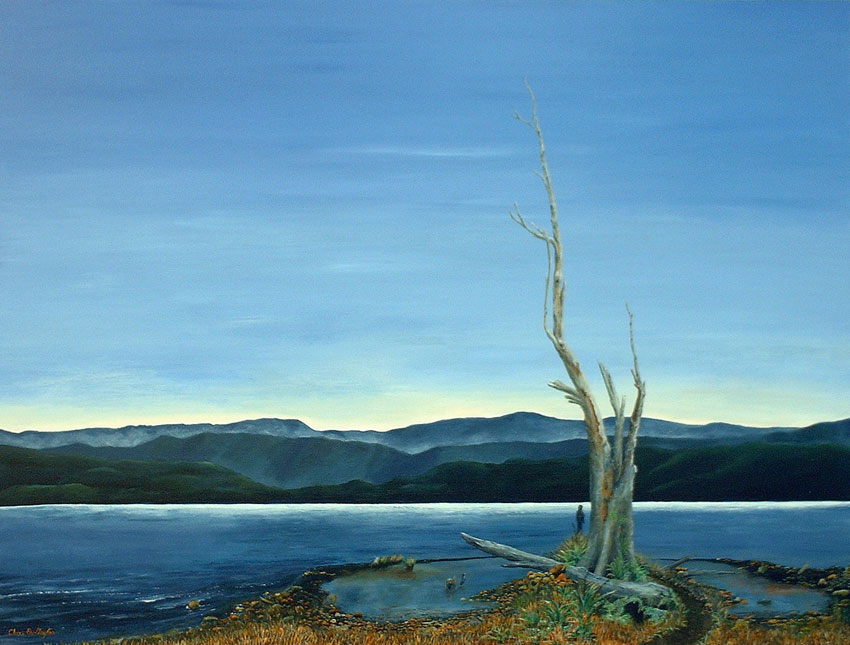 'Stretched
Imagination
!'

February 24 - March 18 2012
Join us for Vincent Duncan's 2012 exhibition. Share Vincent's Wellington with his new collection of luxurious and glorious textured oil paintings.
Below are some paintings from the exhibition. A full list with details can be seen on Vincent Duncan's page here.
You can see photos of the Opening on the Gallery Facebook page here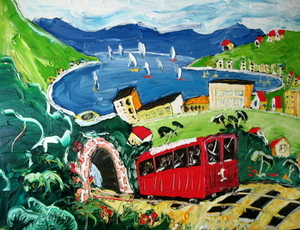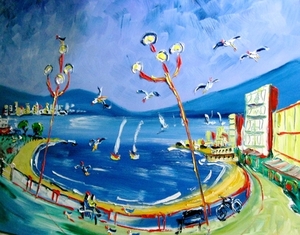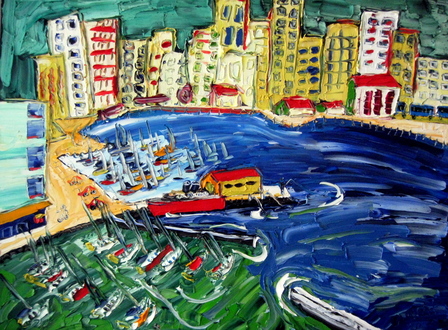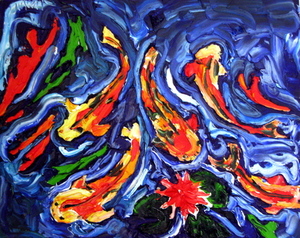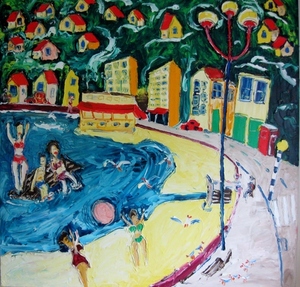 To See Exhibitions 2008 - 2011 please click here