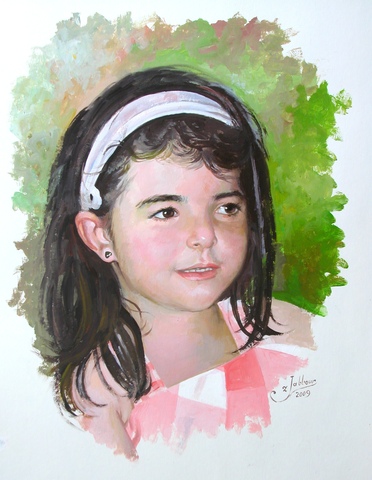 Sample Portrait
Portraits in oil for $1700. The painting can be on a boxed canvas ready to hang or a flat canvas with framing to be arranged either by the purchaser independently or through the Gallery.
Zad Jabbour is a former resident artist in the Al Mushref Palace in the United Arab Emirates where he painted the portrait of the first President of the UAE and many royal princes.
Portrait Commission Testimonial
"The painting arrived this morning and I couldn't be more thrilled. My
daughter loves it too. She wants it in her room but it is too special
not to have it in the main part of the house! Thank you so much. Your
work is amazing and you managed to capture her spirit and soul
beautifully. The detail is incredible. I will definitely be having you
do something else and would recommend you with no reservations. Once
again thank you so much - it moves me to tears of happiness I am that
thrilled with it."
G Dunford Christchurch
Please contact the Gallery for inquiries.