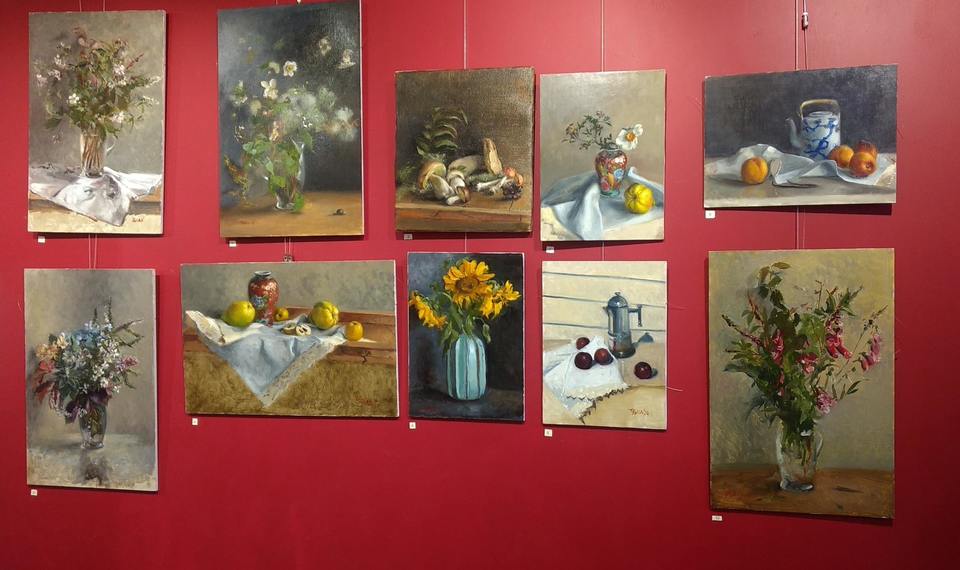 Welcome to the Kiwi Art House Gallery's May Newsletter

Tatyana Kulida used her lockdown home time to paint a collection of small still life paintings. The result, 'Still Life in Isolation' opens this Tuesday 2nd June.

Melissa McDougall's exhibition 'City Lights' was interrupted by the lockdown and extended into May. If you missed it, please visit the Current Exhibition page

Still Life in Isolation

- Tatyana Kulida

Opening Tuesday 2 June from 2pm to 5pm

During the lockdown, one of New Zealand's finest still life and portrait artists, Tatyana Kulida, painted around a dozen small still life oils of the flora she found while foraging on Wellington's Mt Victoria, and various items, flowers and fruit etc in her home. We've turned this burst of lockdown creativity into an impromptu exhibition, Still Life in Isolation
Social distancing rules apply so the opening will be stretched out from 2 to 5pm over Tuesday afternoon 2nd June. With limits to how many we can have in the gallery, if you'd like to come along please rsvp to alan@kiwiarthouse.co.nz and indicate a time you'll be there. We may need to do some cycling in and out with no one staying too long.
The paintings are unframed and will be priced accordingly. So with a variety to choose from and at good prices, this is a great chance to pick up one of Tatyana's beautiful still lifes. Images of all the paintings will be on the Current Exhibition page of the website by the following weekend.
| | | |
| --- | --- | --- |
| from - Still Life in Isolation | | from - Still Life in Isolation |
Working from Home

Some of you will be experiencing working from home and getting used to the new normal, shuffling back and forth between fridge and computer!

If you're spending more time looking at your walls, it might be time to invest in a Covid 19 era artwork, something uplifting inspiring or soothing, like this oil of Kapiti Island by Graham Moeller.
New Art

All of these paintings and other new and recent art can be found on the New Art page
| | | | | |
| --- | --- | --- | --- | --- |
| 'Wave' 30cm x 30cm by Heimler and Proc. A perfect composition. More info on Heimler and Proc's 2020 exhibition soon. | | 'Momento 2' by Escha van den Bogerd, 120cm x 100cm. Just completed from Escha. Full of intensity and a true lockdown painting, born of the times. | | 'Momento 1' (snippet) by Escha van den Bogerd, with 'Momento 2' just completed this week. |
| | | | | |
| --- | --- | --- | --- | --- |
| 'Floating Vase and Flowers' One of three small 45cm x 45cm flowers paintings by Vincent Duncan. These are perfect for a gift or to brighten up a corner. | | 'Wellington Morning' by Ronda Thompson. For Ronda's fans, a new Wellington waterfront scene. She also brought in a small oval of the Havana boatshed in Evans Bay. | | Sam Qiao's atmospheric 'Upper Cuba St' a playful composition shows off the architecture of this historic building. |
Useful to know
Artist Videos - The first of what I hope will be a series of short videos where artists talk about their recent work has been made. See Diana Treeborn talk to her poured paint artworks on the Gallery website home page
Joy de Geus - Thanks to lockdowns Joy is back from Holland where she was going to stay for a year. The good news is she is available for commissions!

Thanks and hope to see you in soon and I'm sure you'll enjoy the skill and beauty of Tatyana Kulida's lockdown artwork.

kind regards

Alan Aldridge
04 385 3083 alan@kiwiarthouse.co.nz
Posted: Tue 02 Jun 2020