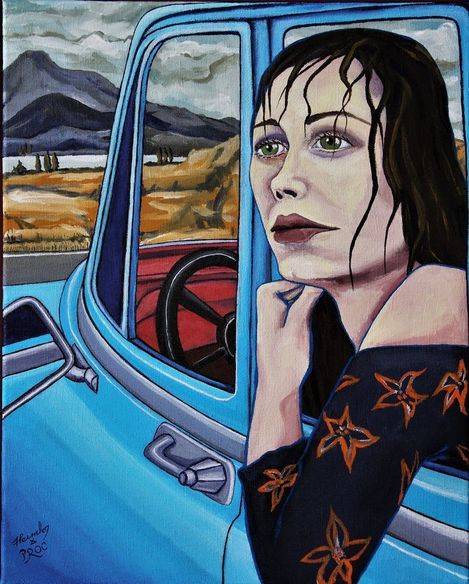 Welcome to the Kiwi Art House Gallery's March Newsletter

Heimler and Proc - Celebrating 10 Years of Collaboration - Saturday 13 March

New Art and Artist

Future upcoming exhibitions
Heimler and Proc - Celebrating 10 years of Collaboration

Opening Saturday 13 March 5pm

From Saturday 13 March The Kiwi Art House Gallery will host an exhibition of Heimler and Proc paintings to celebrate 10 years of the artists' collaboration with the Gallery. There have been many memorable exhibitions starting with The Beehive in Cuba St in 2010, Foxtrot Around the Piano 2014, All in the Same Waka 2017 On the Road in 2018 and the most recent The Hedge 2020.Come along and meet the artists and view a selection of earlier and newer work picked for the show.

If you don't already own a Heimler and Proc, for the exhibition's three week duration there will be reductions in prices for the paintings.

Many of you will be familiar with their previous exhibitions but for those new to Gabriel Heimler and Anna Proc's storytelling and humorous art, read more on their page on the Gallery website here

Please join us for the opening Saturday 13 March 5pm
New Art and Artist

Introducing Trevor Wright, an artist with a long and distinguished history in ceramic art. In recent years he has worked on a series of ceramic representations of Kakahu, Chief's Cloaks. Only a handful have been made. The image below shows the only one available. It is not in the gallery but will be on display later.

Clicking on all of the new art below will take you directly to each in the Gallery website. You'll find these and other recent art on the New Art page
'Kakahu' ceramic by Trevor Wright. Made from individual ceramic pieces wired together. One of the few Trevor has made hangs in Government House in Wellington. Please click on the image to read about the art and artist.

'The Rowers' by Ronda Thompson 750mm x 500mm.

One of Ronda's spectacular Wellington waterfront scenes

'Dream 4' by Andrea Navarro, 750mm x 750mm

Mixed media painting and collage by Blenheim based Mexican artist Andrea Navarro
'Sunny Oriental Bay' by Vincent Duncan 1000mm x 1200mm

This is the largest of Vincent Duncan's new fun Wellington series paintings.

'Spanish Dancer' by Dianne Taylor. One of three new spectacular watercolours from Dianne.

'Pukekohe Roses' by Tatayana Kulida

Tatyana paints her flowers from life. From a grower in Pukekohe, Tatyana has created one of her stunningly alive, immortalisations of natural beauty.
Upcoming Exhibitions
March - Heimler and Proc's 10 Years of Collaboration - We hope all friends of Gabriel and Anna and admirers of their work will join us for the opening on SATURDAY 13 MARCH 5PM
April - new ideas and imagination from the abstract poured paint of Diana Treeborn
Later exhibitions include a first for the Gallery, an exhibition of new paintings now being worked on by the very popular Ronda Thompson.

Thanks and I hope to see you soon in the Gallery for Gabriel Heimler and Anna Proc's 10 years of Collaboration exhibition. For those out of Wellington I'm happy to send more photos of any artwork of interest.

kind regards

Alan Aldridge
The Kiwi Art House Gallery, 288 Cuba Street, Wellington

04 385 3083 alan@kiwiarthouse.co.nz
Posted: Wed 31 Mar 2021