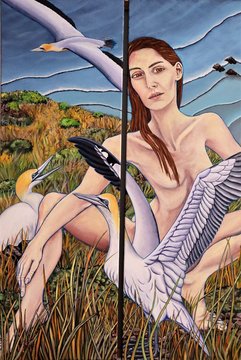 Welcome to the Kiwi Art House Gallery's May Newsletter
- Current Exhibition 'Old and New' Heimler and Proc

- June exhibition Bill MacCormick

- New Art from Sam Earp, Vincent Duncan
Heimler and Proc

'Old and New'

Gabriel Heimler and Anna Proc's 2022 exhibition is on until June 5. Gabriel and Anna will be in the gallery Saturday 28 May from 4-6pm. Drop in to see the exhibition and chat to the artists. Gabriel and Anna are also currently working on a new mural in Oriental Bay. on the history of the 'seven sisters' the well known Oriental bay group of early 20th century houses.
Bill MacCormick exhibition starts 15 June

This is the Gallery's first exhibition for Bill MacCormick, although he's been a contributing artist for a long time. Bill has painted the quirkiness he sees in New Zealand and been a well known artist for many years, so I'm very happy to host Bill's exhibition.
Sam Earp
is now based in Northland but he has been working on four Wellington coastal scenes for the last few months and they arrived this week. Sam's paints with an exquisite light that talks to the mood of his seascapes and landscapes and his new work does this superbly.
Please click on the images for more info
. The smallest of the four is on the
Small Painting page.
Vincent Duncan has just finished a new series 'Sailing On' three large size vibrant energetic palette knife oil paintings. They are still drying, but if you want to be notified when they are ready, around July, please let me know.

Thanks and look forward to seeing you again soon.

Alan Aldridge
The Kiwi Art House Gallery, 288 Cuba Street, Wellington

04 385 3083 alan@kiwiarthouse.co.nz
Posted: Sun 26 Jun 2022