Two Exhibitions for Christmas
2011 Small Paintings Exhibition
December 9 - 24 2011
This year we again have various Gallery and guest artists with a wide and varied collection of small affordable paintings suitable for a gift or you may find something for yourself.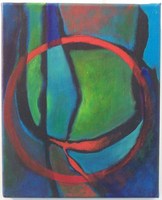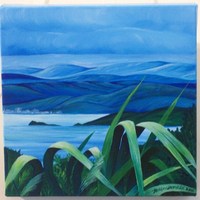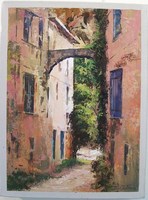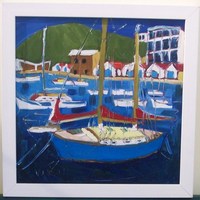 Rob McGregor Tracy McDonald Jos Coufreur Vincent Duncan


and
'Naked Christmas!'
Plus a parallel exhibition, Naked Christmas! a collection of nudes from some of the Gallery's most inventive and popular artists. Including the internationally renowned Gabriel Heimler and Escha van den Bogerd, the unceasingly creative Wellington artist Vincent Duncan plus work form George Thompson, Dianne Taylor, Rob McGregor and Joy de Guise.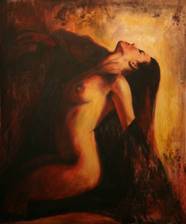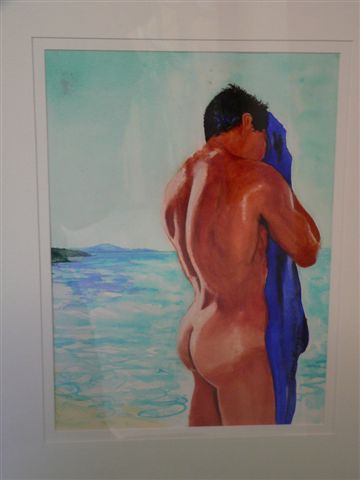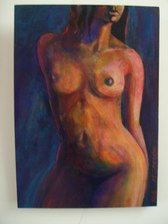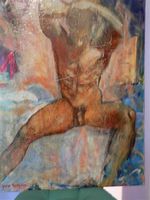 Escha Van den Bogerd George Thompson Rob McGregor George Thompson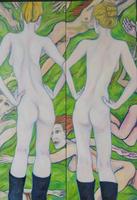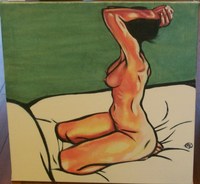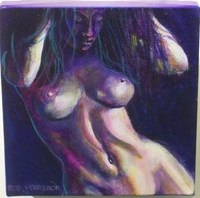 Gabriel Heimler Joy de Guise Rob McGregor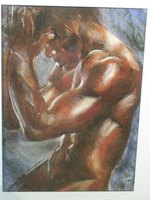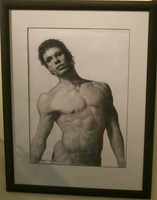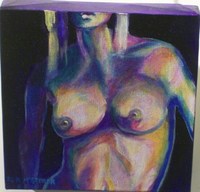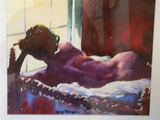 George Thompson George Thompson Rob McGregor George Thompson



Dianne Taylor and Friends
October 27 - November 16 2011
Watercolours from three of the Kiwi Art House Gallery's most popular artists, Dianne Taylor, Alfred Memelink and Phil Dickson.
Opens Thursday 27th October at 6pm. All Welcome. See some more work from this exhibition on the facebook page here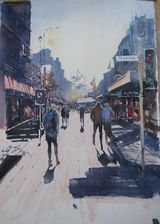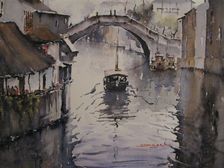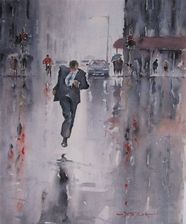 Dianne Taylor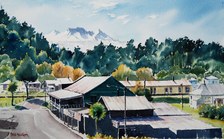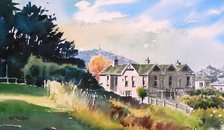 Phil Dickson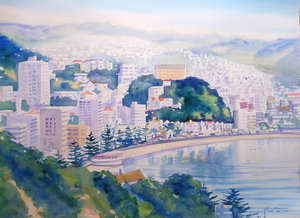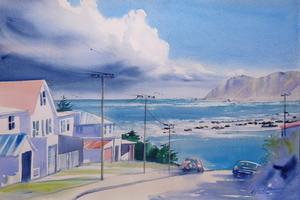 Alfred Memelink
'Touch, Pause...Engage!' September 15 - October 2 2011
Engage yourself with New Zealand's biggest ever sporting event. Pause not and visit the Gallery to touch the power and the passion
from one of the Kiwi Art House Gallery's most respected and admired artists, George Thompson. Supporting George with one painting each
DIanne Taylor, Gabriel Heimler and Bruce Luxford
Opening Thursday 6pm 15 September.
Here are some images of George's watercolours and acrylics from the show plus Bruce Luxford's 'Madonna of the Stadium'
To see size and price details for George Thompson's paintings please visit his page here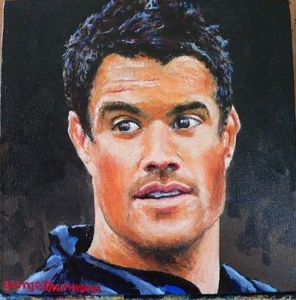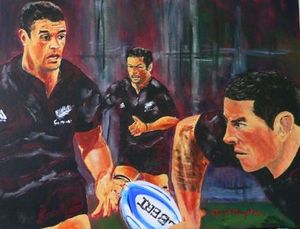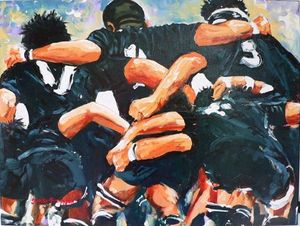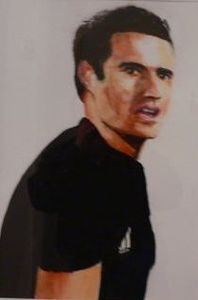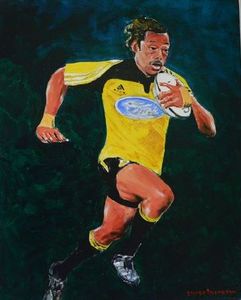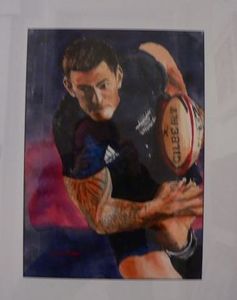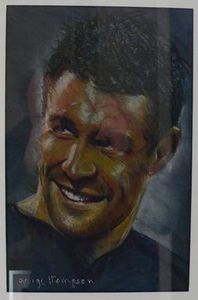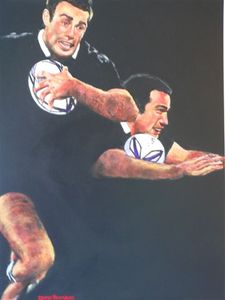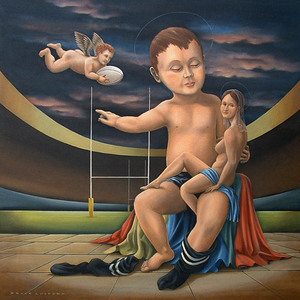 Vincent Duncan's 2011 Exhibition
August 12 -29 2011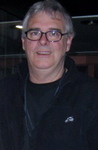 New paintings from Wellington artist Vincent Duncan plus a few examples of earlier work. Vincent's heavily textured vibrant oils are a welcome dose of exuberance. Vincent is one of Wellington's most well known artists and his work is regularly sent around New Zealand and abroad for admirers of his unique style.
His 2011 exhibition opens on Friday 12th August from 6.30pm at the KAH Gallery 288 Cuba St. Everyone is welcome along for a glass of Kiwi Art House Kiwifruit and Wine Concoction and help Vincent open the show.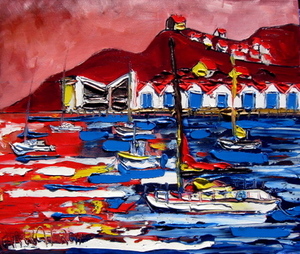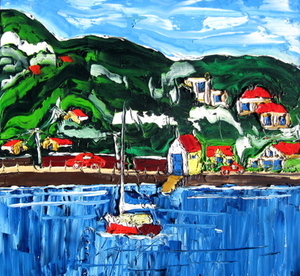 Red Sunset Oriental Bay Eastbourne Wellington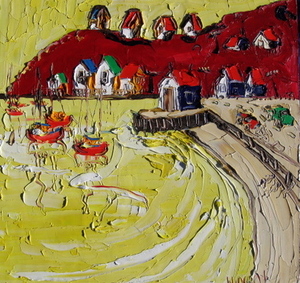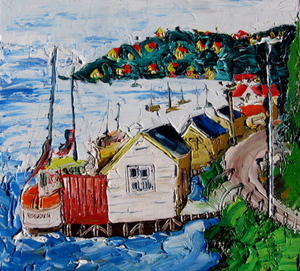 Evans Bay Plimmerton Harbour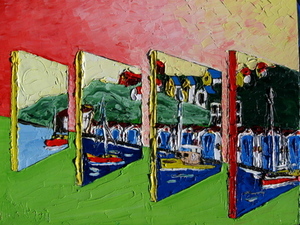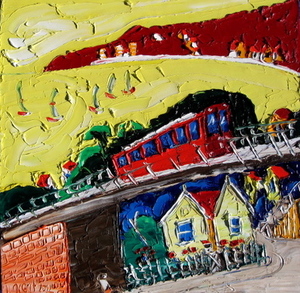 4 in 1 The Boat Harbour Wellington Cable Car 1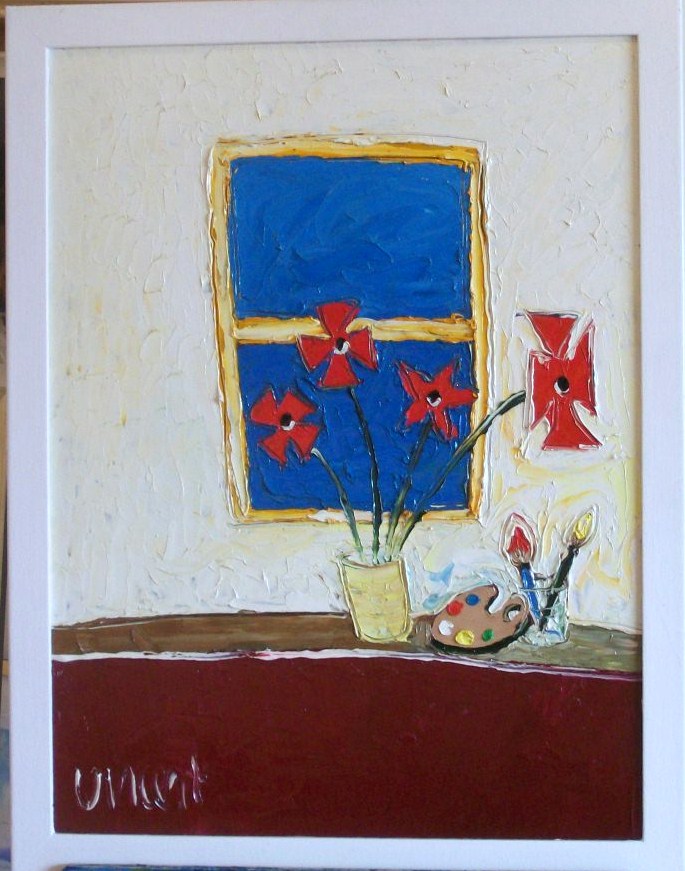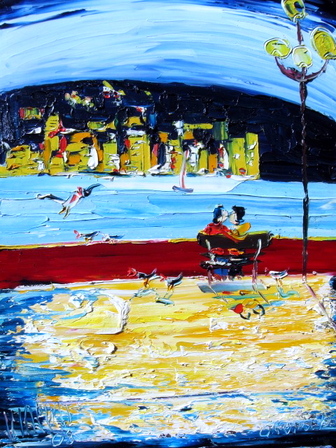 Artist's Room Lovers Oriental Bay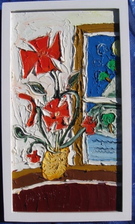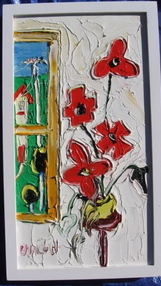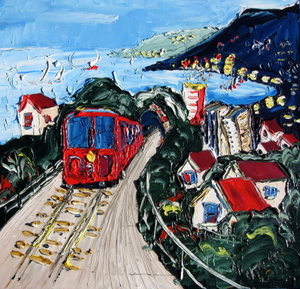 Flowers Flowers in My Garden Cable Car No 2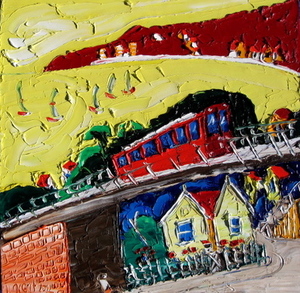 Cable Car 3 Sunset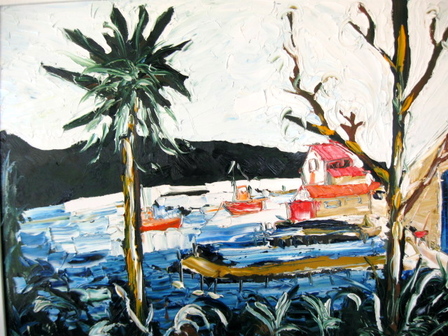 Petone Fishing Boats
Wine and Art Dinner July 15 2011
Images from the dinner hosted by CQ Hotels on Cuba St. $1350 was raised for Cystic Fibrosis NZ



Following on from 2009 and 2010 another winemaker's art dinner will be hosted by the CQ Hotels on Cuba Street and the Kiwi Art House. The previous events were, from the feedback we received, greatly enjoyed by those attending. Expect a relaxing evening of top class cuisine and wine. Olivier Lacoua, General Manager at CQ Hotels has organised a French theme to coincide with Bastille Day. This year we are supporting a different charity, Cystic Fibrosis NZ.
The evening includes
A five course dinner with French cuisine.
A different glass of top quality French wine with each course and an introductory glass of French sparkling wine on arrival
An art display of some 15 -20 of the best work available from the Gallery artists. The art will be for sale and 10% of the proceeds will go to Cystic Fibrosis NZ
Two Gallery artists will give talks. This year Wellington artist Phil Dickson and international artist Gabriel Heimler. Gabriel was born in France and worked as an artist in Berlin for 20 years before moving to Wellington 15 months ago
A silent auction of two paintings for Cystic Fibrosis NZ
Entertainment from a French singer and video installation art
Tickets are $105.00. For information on booking please go here
To view the evening's menu please go here
Thanks to Alfred Memelink and Gabriel Heimler for donating paintings for the charity auction
'The Third Anniversary Exhibition' June 24 to July 23 2011
A group exhibition to celebrate the third anniversary of the Kiwi Art House Gallery.
Gallery artists represented include:
Alfred Memelink - new Wellington scene watercolour, George Thompson, - new large watercolour of the boat harbour Vincent Duncan, - new oil of the cable car Dianne Taylor, -new watercolour of Cuba mall and the bucket fountain Phil Dickson, - new Wellington scene Bruce Luxford, - new allegorical symbolism Sam Earp, - new coastal study, Joy de Geus, new Wellington city scene, Jane Hyder - new decorative garden acrylic, plus the best existing work from Zad Jabbour, Adrienne Pavelka, Rob McGregor, Paul Vincent, Gabriel Heimler, Brian Badcock. Also guest artist Elisabeth Janse
The exhibition opening night is Friday 24 June from 6.30pm. A spoecial new Kiwi Art House drink made from wine and kiwifuit will be served. All welcome.
To see images of the exhibition paintings please see the Gallery's facebook page
https://www.facebook.com/pages/The-Kiwi-Art-House-Gallery/32584022598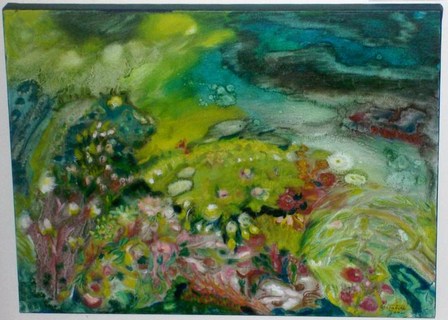 Guest artist Elisabeth Janse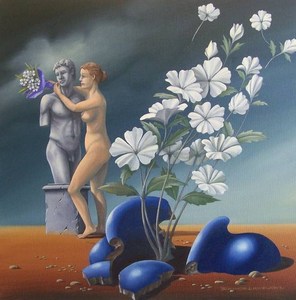 Bruce Luxford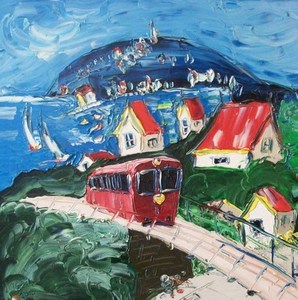 Vincent Duncan
'The Beehive in Cuba St' by Gabriel Heimler and Anna Proc
April 29 to May 22 2011
From a 20 year career in Berlin creating what Gabriel Heimler describes as 'concrete narrative' art, or art with a message, Gabriel and his partner and collaborator Anna Proc emerge after 12 months living in Wellington and absorbing New Zealand art with their first New Zealand exhibition. Gabriel says 'After changing the face of the Museum Hotel we wanted to change the place of the Beehive' They have seen Wellington divided between the cultural and entertainment quarters and the government and business quarters and symbolically bring the two together.
To see all the paintings from the exhibition please go here


'The Beehive in Cuba St' 'Mrs Cook Discovers New Zealand'
'Slices of Life' by Zad Jabbour
March 11 to April 3 2011

Zad working on a painting for his exhibition and on the left, Zad's giant portrait of Sheik Khalifa Bin Zayed al Nahyan the President of the United Arab Emirates. Photo taken in 2010 showing Queen Elizabeth II and Sheik Khalifa.
'Slices of Life' is Zad Jabbour's first New Zealand exhibition. Zad is one of the best realism style artists working in New Zealand. Read his biography here. See examples of his work here.
This exhibition features new works of life in Wellington, plus examples of other genre including still life and animal portraits
Opening night Friday 11 March 6pm at the Kiwi Art House gallery 288 Cuba St Wellington. All welcome. If you'd like to attend, please RSVP to Alan Aldridge at alan@kiwiarthouse.co.nz
Below: Some paintings from the exhibition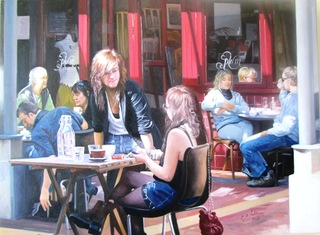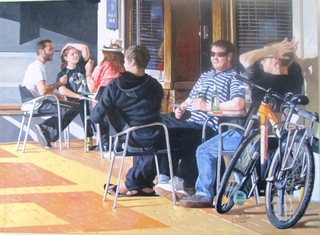 'Time to Go - Plum Cafe' $2500.00 'Relaxing at The Capitol' $2500.00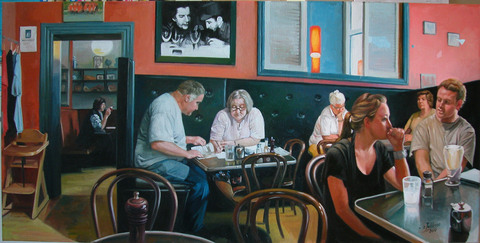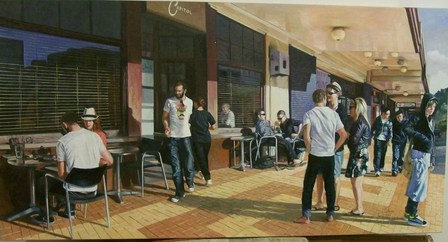 'Inside Fidels' $3200.00 'Kent Terrace and The Capitol Cafe' $3500.00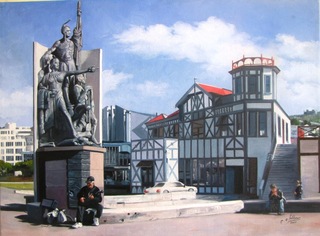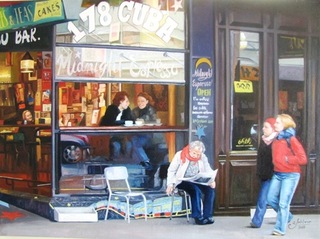 The Kupe Statue $1900.00 'Midnight Espresso' $2100.00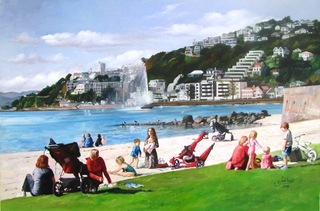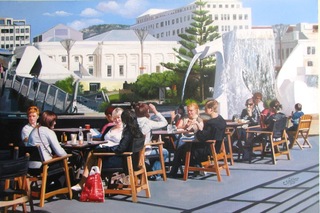 'Time Out Oriental Bay' $2700.00 'The Tanya Ashken Fountain' $4400.00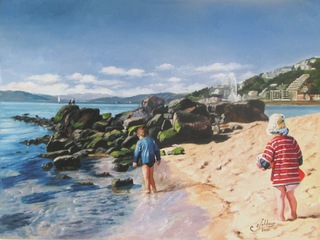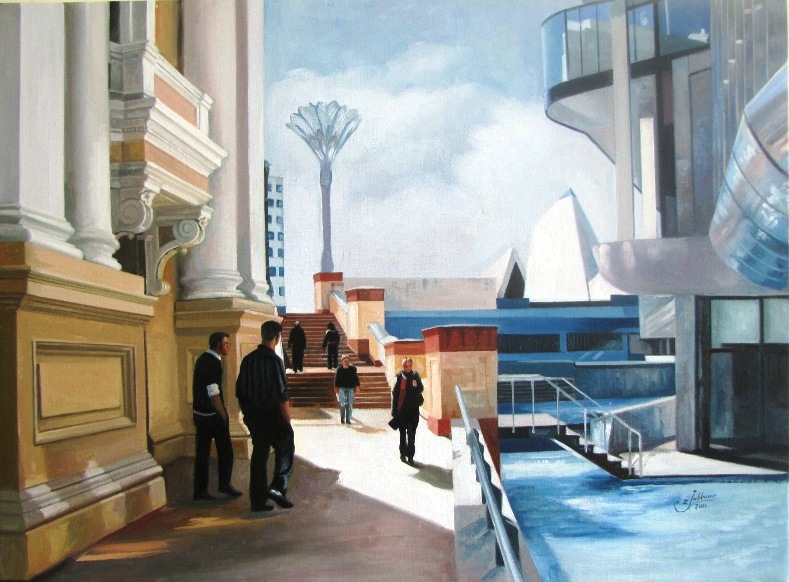 'Summer Play' $1700.00 'Old and New' $2600.00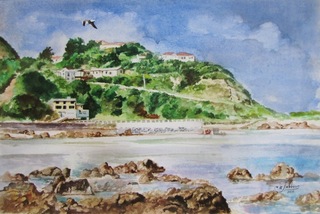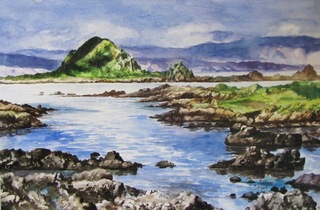 'Island Bay 1 and 2' watercolour sunframed $850.00 each

'Plums' $1500.00 'Portrait of a Horse' $1500.00

'Arabian Stallion' $1500.00 'Cheeta!' $2500.00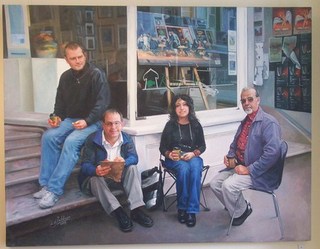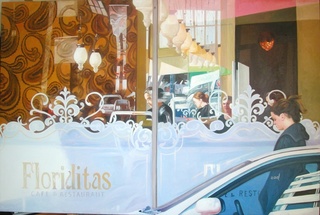 'Friends' NFS 'Floriditas' $4400.00
Small Paintings Christmas Exhibition 2010
From 3rd December 2010
Small Affordable Original Artwork for Christmas
Opening Friday 3rd December 2010. Images from the Opening Night. To see more photographs please visit the Kiwi Art House Gallery Facebook page.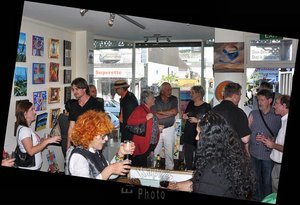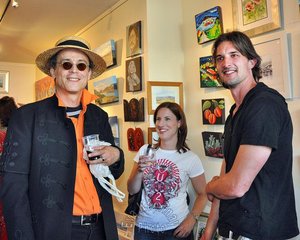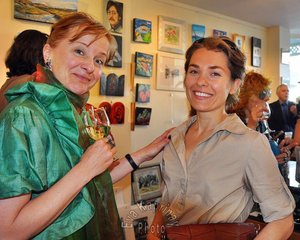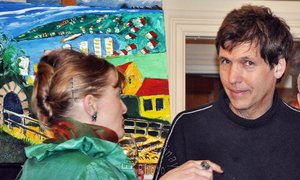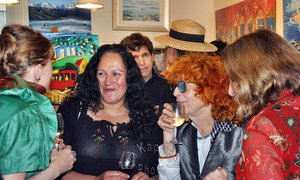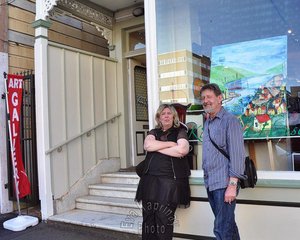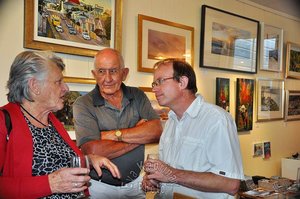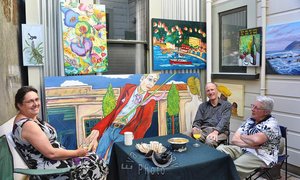 Artists represented, Alfred Memelink, George Thompson, Vincent Paul, Gabriel Heimler, Dianne Taylor, Rob McGregor, Bruce Luxford, Vincent Duncan, Sam Earp, Simon Derby, Tracy McDonald, Adrienne Pavelka, Joy de Geus, Jane Hyder, Bill MacCormick, Phil Dickson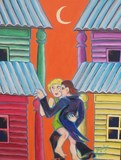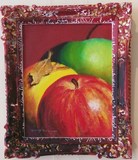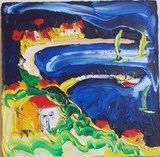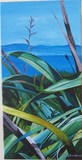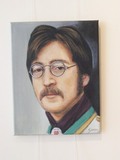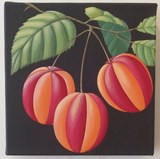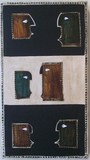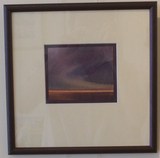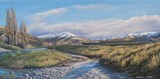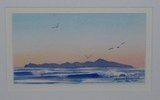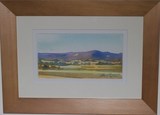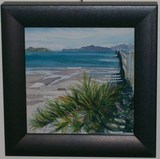 'Large Canvas' - an exhibition of selected paintings of Wellington
from Vincent Duncan
November 12-28 2010
Vincent Duncan has a collection of large canvases in his studio that are rarely seen. We've selected some of the best examples for this exhibition. Along with a variety new smaller works this show will be a feast of colour and thickly applied oil paint in the classical Vincent Duncan style.
The opening is Friday 12th November at 5.30pm. All welcome. (See some photos from the opening below)
Below are paintings from the exhibition. The first is 'Oriental Bay Panorama', one of the large canvas paintings.
For more of Vincent's work please see his Kiwi Art House website artist's page here

'Oriental Bay Panorama' 1550mm x 770mm

'Tugboat Cafe' 1260mm x 670mm

'Boatsheds' 1260mm x 670mm

'Cable Car' 870mm x 670mm 'Evening Calm' 1020mm x 760mm
'Milford Sound Fishing Boat' 870mm x 670mm

'Poppies' 500mm x 400mm 'Yellow Flower' 500mm x 400mm

'Sunset' 600mm x 300mm

'Roseneath Wellington' 1200mm x 900mm

'Roseneath View' 900mm x 1200mm

'Artist's Room' 670mm x 870mm

'Cable Car 2' 870mm x 670mm




Winemakers Dinner and Art Show
27 August 2010
Over 70 guests attended the second Terrace Mercure Hotel, Kiwi Art House and Martinborough Wines,Winemakers Dinner. The enjoyable evening consisted of a five course meal, jazz music and art exhibition. Two artists donated paintings that were auctioned for the Cure Kids charity. Over 25 artworks were on display.

Zad Jabbour's 'Albratross Fountain'
'Favourite Places'
A Group exhibition from Kiwi Art House artists.
An interesting mix of images as our artists present their favourite places around New Zealand from north to south.
Includes Alfred Memelink, George Thompson, Vincent Duncan, Jan Thomson, Dianne Taylor, Rob McGregor (Tauranga), Janet Marshall (Nelson), Liz Turnbull (B of P) Zad Jabbour (Auckland). Also introducing Sandra Zukerman and special guest, visiting renowned Berlin based artist Gabriel Heimler
We hope you can join us at the opening night, sponsored by Hell's Pizza Cuba, on Thursday 13th May from 6.00pm

Rob McGregor passes this spot just about every day on his walks around Mt Maunganui. Although painted in 2001, this work has never been exhibited.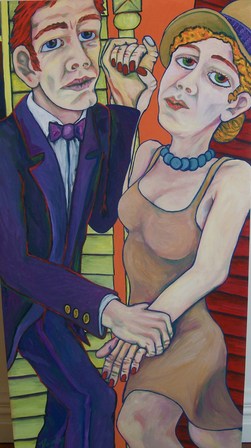 Visiting German based artist Gabriel Heimler has sold at Sotheby's in New York, a sign of international recognition in the art world, but right now his favourite place is Wellington.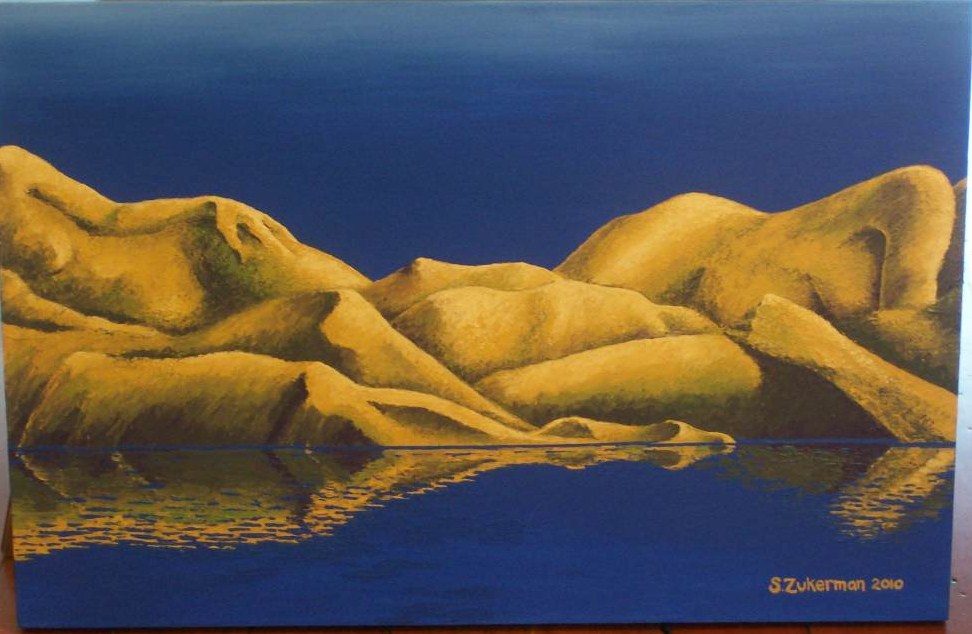 Introducing Sandra Zukerman. From her nude hills series, the hills behind Whitby.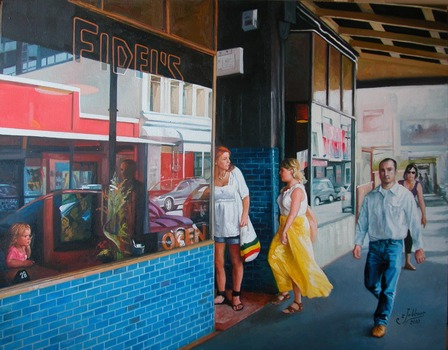 A favourite place for many who live and work in Wellington's Te Aro, Fidels Cafe. By Zad Jabbour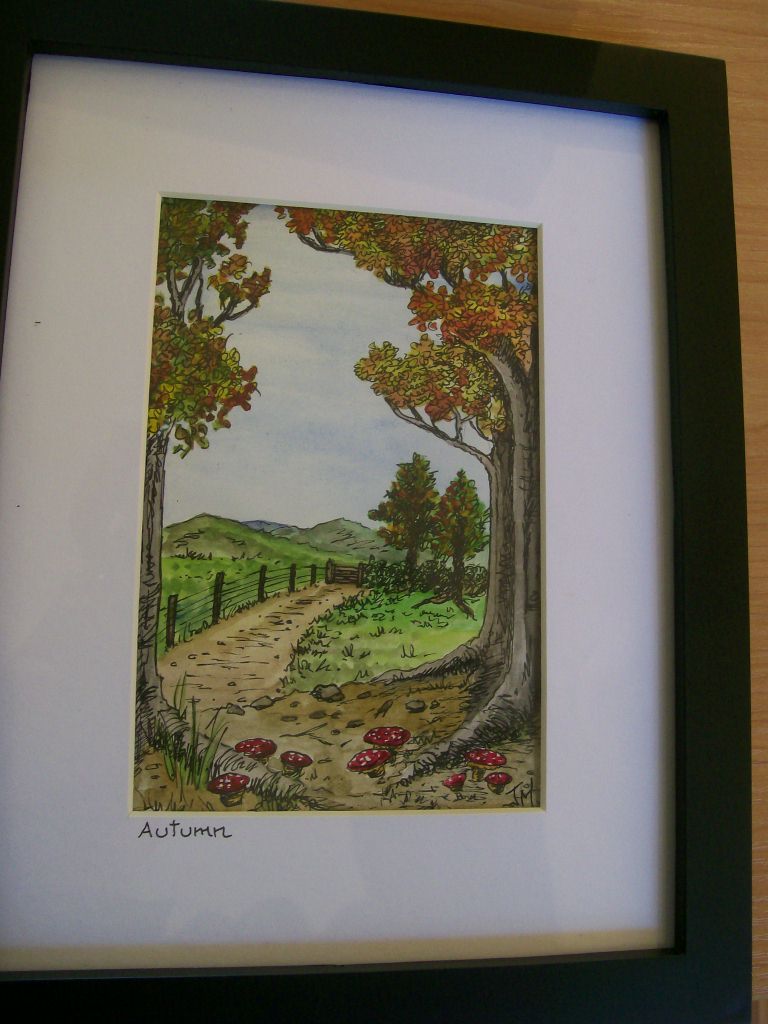 Janet Marshall's ink and watercolour sketch of her countryside in Autumn
Dianne Taylor Watercolours
5 -21 March 2010
Dianne Taylor is a Wellington watercolour artist whose individual style has developed significantly in the last two to three years. Her work is in constant demand at the KAH Gallery. In a short space of time she has become one of the most accomplished watercolour artists in Wellington. This will be Dianne's first solo exhibition. The exhibition opening is Friday 5th March from 6.00pm.
Some paintings from the exhibition - See Dianne Taylor's page under the 'Gallery' page for all exhibition paintings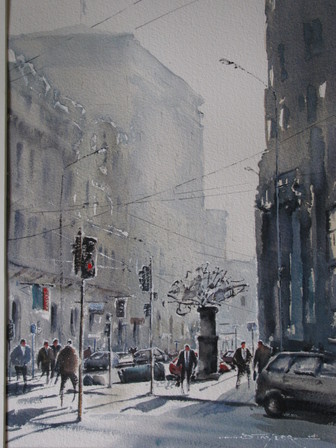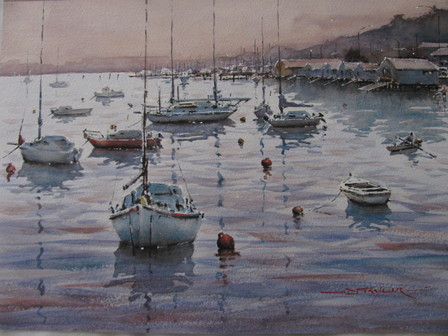 'Winter Light Stout Street Corner' (SOLD) 'Evening Light Evans Bay'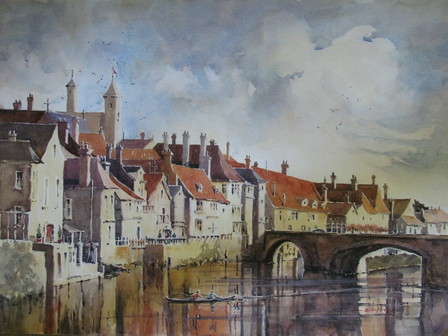 'French Village' 'Nairn Cottage'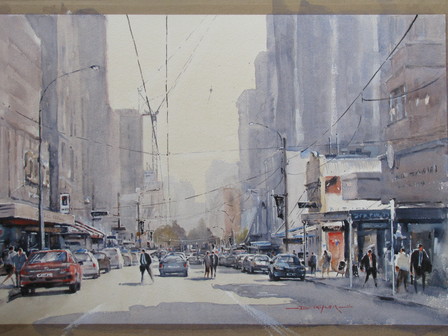 'Warm Day Upper Willis St'
Small Paintings Cash and Carry Christmas Exhibition
December 9 -24 2009
Small affordable paintings that make personal Christmas presents. The works are mostly around 10cm x 15cm and are all framed or on boxed canvas. There are watercolours and oils of Wellington scenes plus a variety of subjects from still life to the South Island landscape. Around 50 paintings on display from 12 artists including well known Wellington and national artists.
Represented artists. Alfred Memelink, Adrienne Pavelka, Ilma Mitchell, Dianne Taylor, Rob McGregor, Vincent Duncan, George Thompson, Zad Jabbour, Tracy McDonald, Bill McCormick, Kay McCormick, Eileen Grey
The opening is on Wednesday 9th December from 6.30pm. All Welcome
Paintings from the exhibition: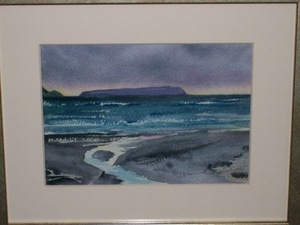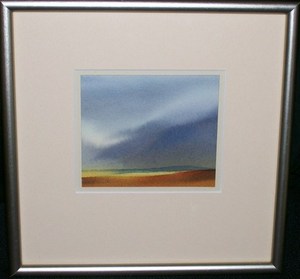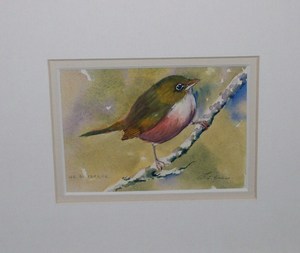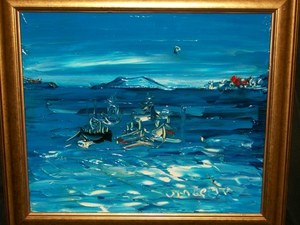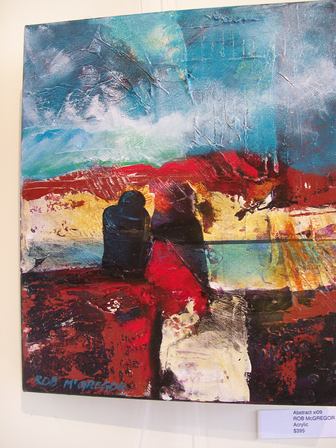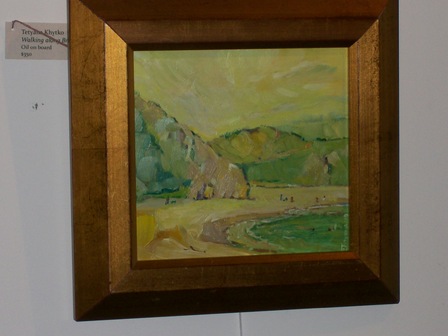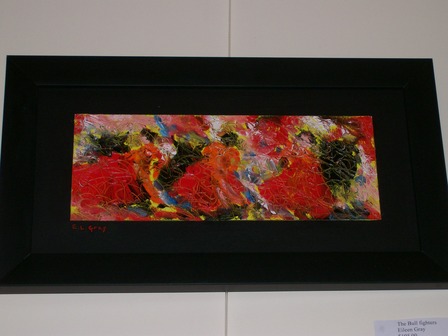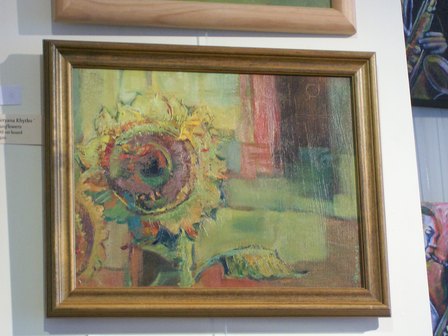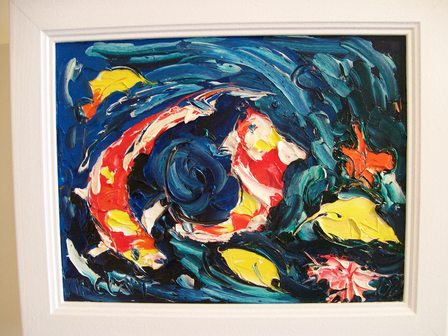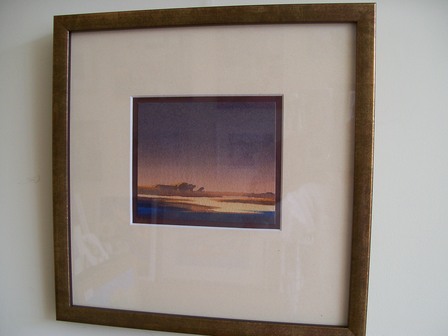 'Spring Colours' - Vincent Duncan, George Thompson, Arthur Flux
Nov 9 to 30 2009
To welcome the warmer weather Kiwi Art House has brought together three Wellington artists known for painting bright works in cheerful strong colours.
Leading the show is Vincent Duncan with a series of framed oils with a mostly 'Wellington bays' theme. George Thompson has a series of Wellington Houses acrylic abstracts and the exhibition introduces a new young artist, Arthur Flux. Arthur draws on his Maori heritage and paints geometric works with a pacific theme and often with a story behind them.
The opening is Monday November 9 at 6.30pm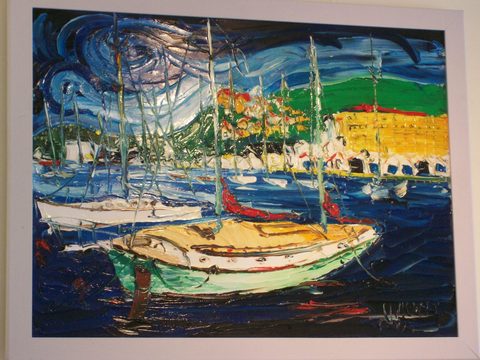 'Oriental Bay' by Vincent Duncan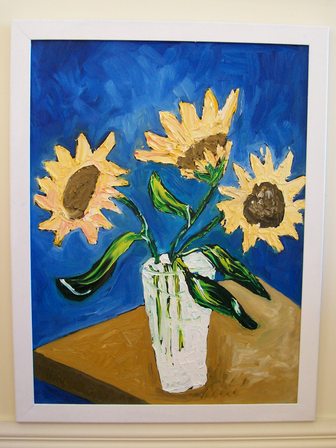 'Sunflowers on a Table' by Vincent Duncan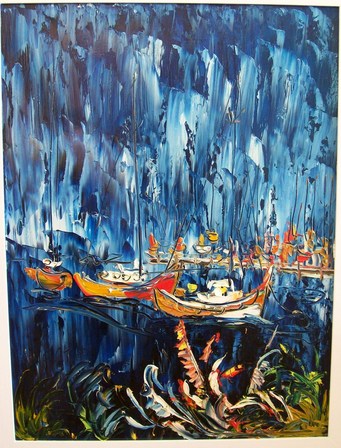 'Wellington Boats' by Vincent Duncan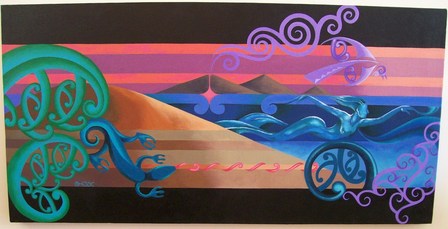 'Cook island Conception' by Arthur Flux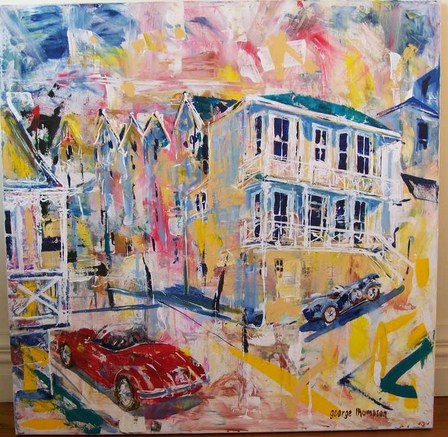 'Tinakori Road' by George Thompson
'Old Thorndon' by George Thompson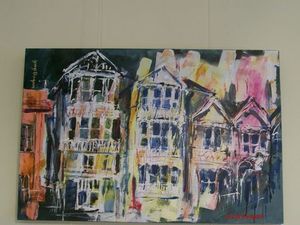 Kinetics - Solo Exhibition by Ilma Mitchell
Sept 20 Oct 11 2009
Wellington artist Ilma Mitchell's latest solo exhibition features striking, abstract acrylics on canvas. On this occasion - using a dramatic limited palette, Ilma has let her ongoing passion for colour and texture "run away with her".
Ilma Mitchell is a Wellington artist with great amounts of creative energy and these paintings are an exploration and expression of her creativity. Ilma has several times and under three different names reinvented herself. She has painted and experimented with traditional landscapes and three distinct styles of abstracts of which 'Kinetics' is the latest. Here her work has exploded with line colour and texture in such an expressive style that you can just tell these paintings comes from deep within her.
She hopes you'll enjoy viewing this quite radical departure from her previous style as much as she has enjoyed creating the images.
The opening is Sunday 20 September at the Kiwi Art House Gallery from 4pm
Below are the main paintings in this exhibition. (Acrylic on Canvas)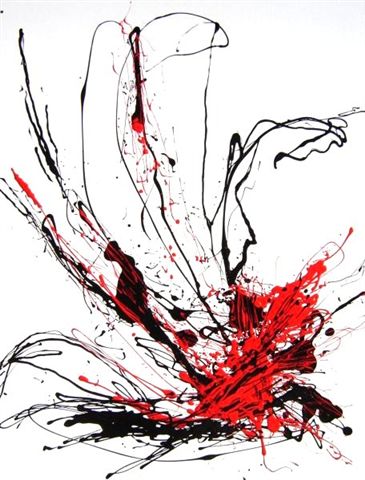 Kinetics 1 910mm x 1200mm $1650.00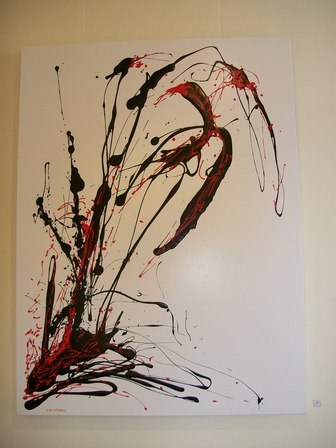 Kinetics 2 910mm x 1200mm $1650.00

'Philox' 250mm x 1000mm $750.00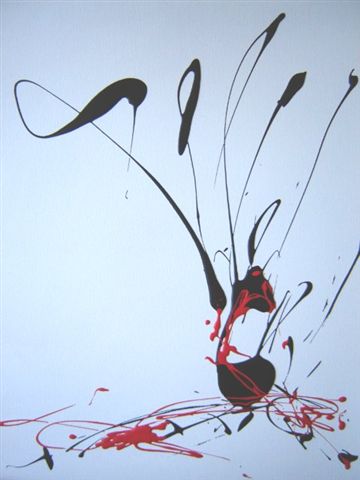 'Splat 2' 400mm x 500mm $475.00 (SOLD)
'Splat 1' 400mm x 500mm $475.00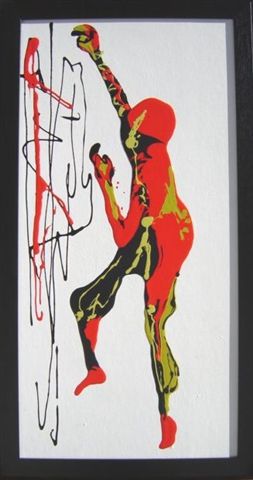 'Ascent' 450mm x 820mm $750.00 (Acrylic on Board)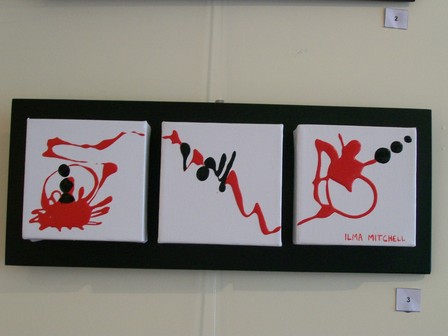 'Automata II' 380mm x 140mm $325.00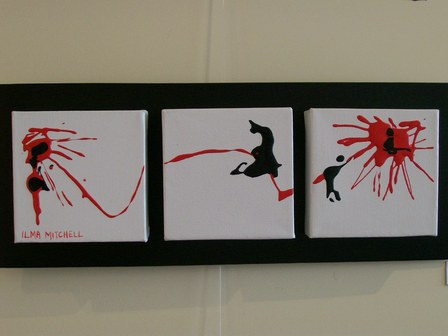 'Automata III' 380mm x 140mm $325.00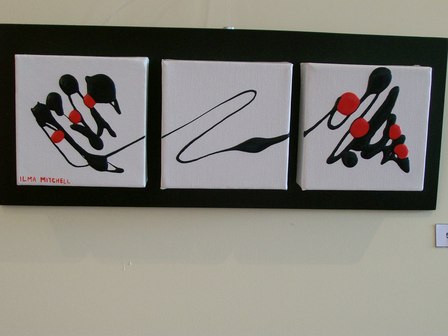 'Automata IV' 380mm x 140mm $325.00
Mecure Hotel The Terrace - Dinner and Art Display
21st August 2009
A five course dinner and art display hosted by the Mecure. Includes a jazz singer and an address by Kiwi Art House Gallery watercolour artist Alfred Memelink. 15-20 artworks from Kiwi Art House gallery artists will be on display. Click here for full information
Below are some pictures from the evening. Bottom left shows myself (Alan Aldridge) introducing the two artists who spoke about their work; Zad Jabbour and Alfred Memelink. Bottom right, Alfred Memelink showing one of his Antarctica paintings.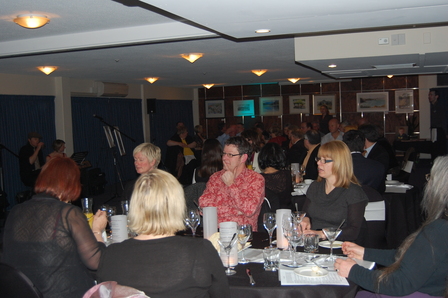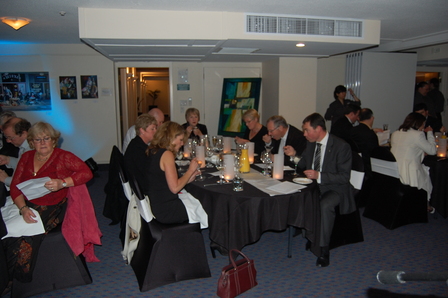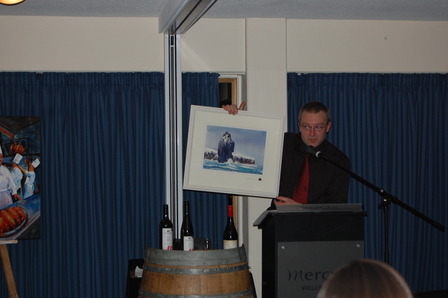 'Artist's Choice - This Moment in Time' Anniversary Exhibition
from July 1 to July 31 2009
An exhibition marking the 1st anniversary of the Kiwi Art House Gallery. The gallery contributing artists will provide two works each of their choice. The exhibition will include new paintings from Adrienne Pavelka, Rob McGregor, Alfred Memelink, Tetyana Khytko, George Thompson, Judith Royal, Zad Jabbour, Jan Thomson, Phil Dickson, Ilma Mitchell, Dianne Taylor, Dan Wilkinson, Vincent Duncan, Shirley Sutton, Bill McCormick and more plus a contribution from special guest artist Michael McCormack.
Come along to the opening at the KAH gallery Wednesday 1 July from 5.30pm onwards.

Adrienne Pavelka
'From the Shore' by Tracy McDonald
Tracy McDonald 'From the Shore' at the Lala Cafe Leeds St from 15 February 2009 to 15 March 2009
A mini exhibition of six paintings showing Wellington harbour from Tracy McDonald at the Lala cafe, Leeds St, Wellington. Tracy's developing distinctive style is evident in this combination of new and older works.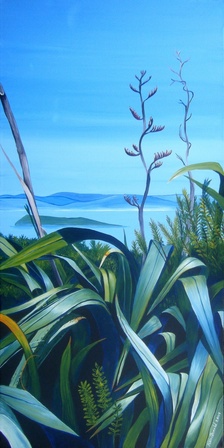 'The Fine Art of Conversation' and other New Paintings by Rob McGregor
'The Fine Art of Conversation' by Rob McGregor from December 3 to December 17 2008
Rob McGregor is a well known artist from Tauranga whose colourful depiction of NZ life has a wide appeal. His paintings have been spotted in many settings, as diverse as Parliament Buildings to pubs. Rob Describes himself
"I am a full-time painter living in Mt Maunganui. Bold, bright canvases depict the New Zealand I love: its landscapes, people and their leisure-time pursuits. NZ coast, flora, beach and seascapes, sunbathers, nudes, café scenes, music and yachts provide content for my canvases.
Reproductions of my paintings have proved extremely popular: many thousands have been purchased by New Zealanders and visitors to the country, who have no doubt felt associations with the same things that interest me."
'The Fine Art of Conversation' Exhibition

"The Fine Art of Conversation" series is inspired by the paintings of Renoir and Degas and reinterprets their 19th century scenes of everyday life in a modern guise.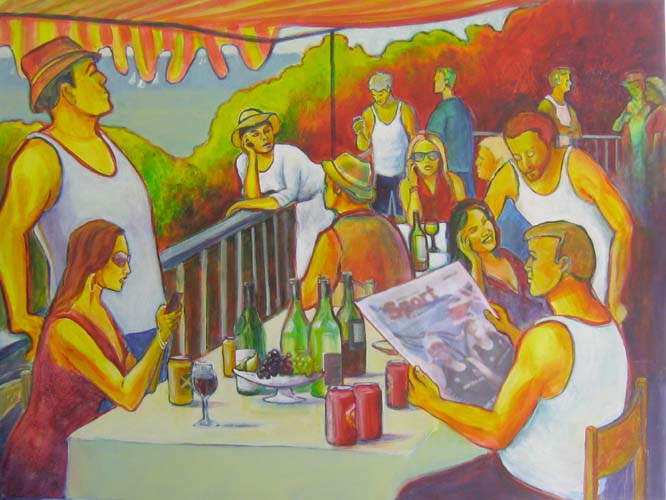 Exhibition Opening Night
If you would like to attend the Exhibition Opening Night, 6-8pm Thursday 4 December at the Kiwi Art House Gallery, please request an invite through the 'Contact Us' page
Glass Art Display -3 - 17 December 2008
Glass Art Display from December 3 to December 17 2008 - See below for details
An exhibition of cast glass and fused glass from three new and exciting talents in NZ's glass art world, Angela McAlpine, Adam Sinclair and Frances Woodhead. New Zealand is gaining an international reputation for glass art, particularly cast glass. Come along and see what it's all about.
The opening night is 4 December 6-8pm.